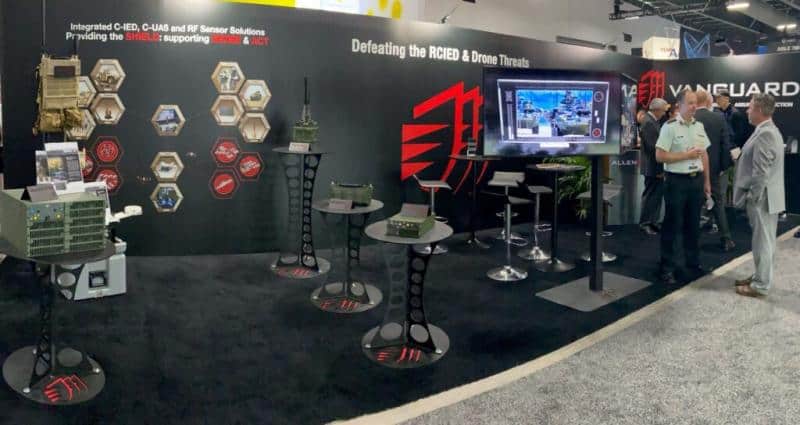 Allen-Vanguard has displayed its next generation SHIELD products to enhance the inhibition of current and emerging Radio Frequency (RF) threats at CANSEC 23.
Allen-Vanguard has been at the forefront of developing advanced technology to counter RF based terrorist and extremist threats globally and is developing the concept of Remote Radio Heads (RRH) and emerging technologies to maximize the efficiency, and hence increase the inhibition range, delivered by their electronic counter measure (ECM) systems, whilst minimizing size, weight and power consumption (SWaP).
In particular, the company received UK Ministry of Defence (MoD) funding for the development of an RRH demonstrator to de-risk several key areas associated with its development and use in the Land based Cyber Electromagnetic environment. According to the company, there are multiple technical challenges to be overcome, especially concerning thermal management (when reducing size and weight) and specialist techniques to maintain signal fidelity and synchronization. In addition, the demonstrator will use RF over Fibre to distribute multiple wideband RF signals between a software defined radio and the high-power multi-band RRH.
Similar design principals and aspirations are being applied to all their next generation SHIELD product concepts which have been displayed at CANSEC 23. The combination of Allen-Vanguard's experience and knowledge will deliver future products with significant reductions in overall size, weight and power consumption of the fitted system which benefits the end user in relation to the reduced space, heat and electromagnetic interference caused inside the vehicle.
Bobby Strawbridge, Director Business Development for Allen-Vanguard, said: "We are very pleased to be showcasing our next generation products at our home show CANSEC and we are very excited to be pushing the boundaries of standards based Electronic Countermeasures. Our agile business model and adoption of flexible standards ensures that we will be able to deliver effective capabilities now and well into the future, while continuing to meet the ever-increasing demands that the leading programs present us. It truly is an exciting time in this space and one that Allen-Vanguard is relishing."