Spectra Group is a leading developer of mission critical Beyond Line Of Sight (BLOS) communications systems and secure networks for military and defense operations in remote environments, or environments that have been destroyed by natural disaster or conflict.
We've just launched Spectra's Defense Advancement supplier profile, which was written and built by our team in collaboration with Spectra. It showcases the company's suite of technologies and systems which are designed to provide reliable, resilient voice and data communications for areas with little or no communications infrastructure.

Spectra's Slingshot is a BLOS tactical radio range extension system that can be used to achieve C2 BLOS communications on the move over 1000+ kms, using in-service tactical radios. 
The SlingShot system works on all platforms with the majority of UHF and VHF radios; enabling L-Band Satcom using Inmarsat's L-TAC global network. Learn more>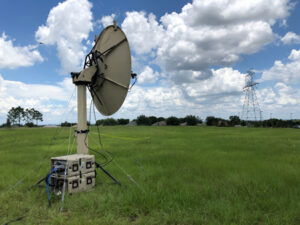 The company's Troposcatter solution enables resilient and robust high-capacity networks over strategic distances in satellite-denied environments and with high bandwidth capacity.
The next generation of Troposcatter technology from Comtech delivers data rates to 200 Mb/s over 200km and more without the need for terrestrial or satellite repeaters. Learn more>
To find out more about Spectra Group and its BLOS strategic communications systems, please visit the company's profile page: https://www.defenseadvancement.com/company/spectra-group/