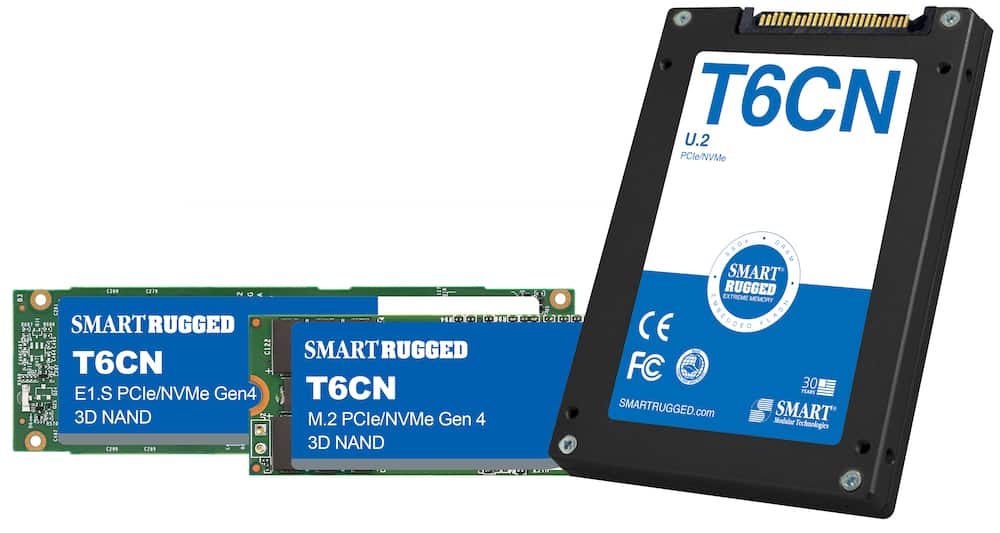 SMART Modular Technologies, Inc., a division of SGH and a developer of memory solutions, Solid-State Drives (SSDs) and hybrid storage products, has released its new T6CN family of PCIe NVMe SSD products, part of the SMART RUGGED portfolio.
T6CN SSDs are designed to fit between very high-performance datacenter SSDs and highly secure, ruggedized SSDs for military, industrial, and telecom applications.
The T6CN is available in M.2 2280, E1.S and U.2 form factors, all of which provide compatibility with PCIe Gen 4.0 NVME technology to deliver faster read, write, data transfer and operating speeds compared to current SSD technology.
The SSD's capacity ranges from 960GB to 3,840GB for the M.2, 960GB to 7680GB for the E1.S, and 960GB to 16,360GB for the U.2 version. T6CN offers speeds up to 3,500/s Sequential Read and 3,200MB/s Sequential Writes and is compliant with NVMe v1.4 specifications. Gen 4.0 based technology runs exponentially faster than the speed of SATA III.
"The T6CN broadens our ruggedized SSD portfolio by adding a more commercially focused Gen 4.0 PCIe solution, coupled with next generation NAND Flash for larger capacity applications," said Mike Guzzo, director of the SMART RUGGED product line. "These technology enhancements help enable system designers to get higher performance and capacity for their customer's evolving system needs."
The T6CN SSD family is available in commercial and industrial temperatures. The SSDs go through 100% burn-in testing to simulate extreme temperature gradient conditions so that defective drives are exposed and eliminated. In addition, the T6CN SSDs feature advanced low-density parity check error correction and Self-Monitoring Analysis and Reporting Technology (S.M.A.R.T.) support. The U.2 and E1.S versions also feature Power Failure Protection (pFail), which safeguards the integrity and functionality of the data in the event of sudden power loss.
Find military data storage manufacturers and suppliers of rugged, encrypted and secure data storage solutions for defense>>