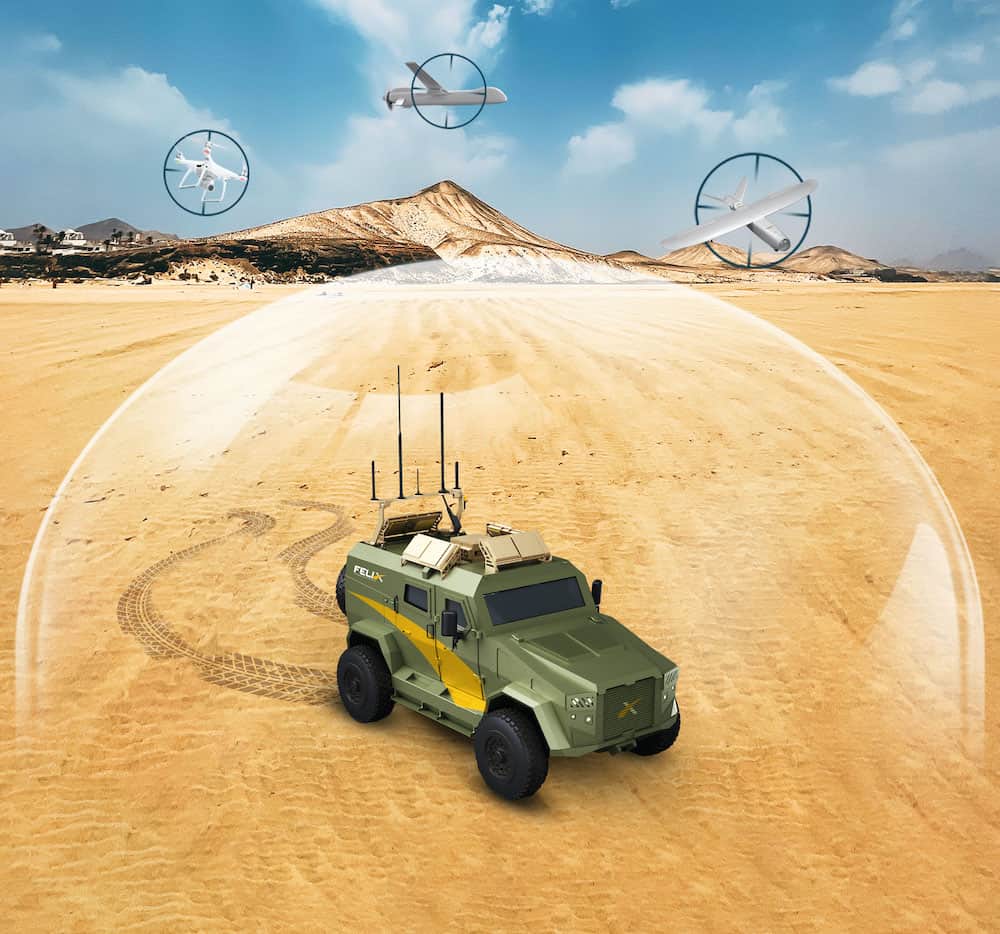 Meteksan Defence has exhibited the FELIX On-The-Move Counter UAS System for the first time at IDEF 2023.
The next generation close-range air defense system, with the capability to operate on-the-move, has been designed for the detection, tracking and neutralization of mini/micro drones and Kamikaze UAVs, and is a force multiplier for Turkish security units in the protection of both fixed facilities and VIP/convoy protection.
Thought to be one of the few UAV defense systems in the world with the ability to operate on the move, FELIX can detect and jam faster UAVs from higher altitudes with its increased elevation coverage and updated frequency rate.
Experienced in the development of radar and electronic warfare systems, Meteksan Defence's FELIX counter-UAS solutions utilizes the Retinar AESA radar system, which has been developed with AESA/MIMO technology and customized for drone detection, and the MERT Electronic Attack System, capable of target-specific reactive jamming, and command and control software.
Retinar AESA, the detection and tracking system of FELIX, offers increased tracking performance with high update frequency and high-performance target classification features with low speed sensitivity. Retinar AESA, which can detect and track even on the move, can operate 24/7 without being affected by adverse weather conditions.
The Electronic Attack System, another component of the FELIX system, creates a much wider protection area thanks to its increased jamming range compared to active jamming systems. Standing out with its broadband reactive jamming, dynamic spectrum management and target-specific jamming features, the system provides full protection to security forces even on the move.
Selçuk Kerem Alparslan, President of Meteksan Defence, said that FELIX was developed to address the increasing number of mini/micro UAVs and Kamikaze UAV attacks in the world, and emphasized: "I can say that FELIX, which we have developed with completely based on the innovative technologies we have obtained in the field of Radar and Electronic Warfare, is a very effective system against drone and Kamikaze UAV attacks, especially for VIP / Convoy protection. FELIX, which we launched for the first time at IDEF 2023, will achieve significant success not only in Turkey but also in the world market as an innovative product."
Find suppliers and manufacturers of Counter-UAS Systems & Technology >>