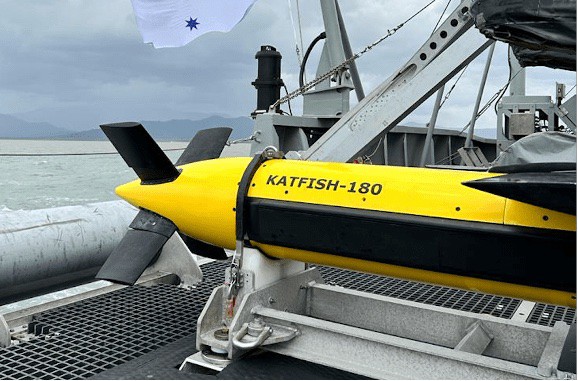 Kraken Robotics Inc. has supplied high-resolution seabed mapping sonar equipment to the Royal Australian Navy. 
Kraken delivered its KATFISH high-speed high-definition seabed awareness solution in Q2, and recently completed system integration and sea trials in Cairns, Australia. Kraken expects to provide additional in-service support including training, spares and operational support.
Continuing to build off successful KATFISH deliveries with various NATO navies, this represented Kraken's first KATFISH system sale in the Asia-Pacific region.
This system delivery follows the results of a successful in-country demonstration of KATFISH™ for the Royal Australian Navy in Q1 of this year.
Kraken's team worked in concert with a local Australian survey company, to complete a 60km² feature detection survey that provided real-time ultra-high-resolution imagery and bathymetry of the seafloor along coastal waterways.
The KATFISH is a high-speed seabed survey system providing ultra-high resolution seabed imagery and bathymetry for defense and commercial customers. 
The acoustic imagery and bathymetry collected by KATFISH systems provides customers with actionable intelligence about subsea assets and infrastructure such as subsea pipelines and fiber optic cables, as well as important hydrographic information about the safety of key transit routes for ocean going assets.
Kraken has integrated KATFISH to a variety of manned and unmanned vessels of opportunity, providing both standalone turnkey seabed mapping as well as optional integration to a customer's combat mission management systems.
Kraken's KATFISH high-definition seabed awareness solution consists of its KATFISH towed Synthetic Aperture Sonar, as well as Tentacle® Winch and Autonomous Launch and Recovery System.
"We are pleased to have delivered our KATFISH™ high-definition seabed awareness solution to the Royal Australian Navy," said Kraken President and CEO, Greg Reid. "Our initial demonstration of the KATFISH system in Australia earlier this year was essential in providing the RAN an opportunity to evaluate system performance first-hand in real-world conditions. Kraken has had long-standing co-operation in Australia, starting in 2013 with acceptance of our first Interferometric SAS by Australia's Defence Science and Technology Group."
The Royal Australian Navy made a statement; "The purchase and operational employment of the Kraken KATFISH represents the first implementation of the Royal Australian Navy's Combat Ready Prototyping acquisition approach. Kraken, the Royal Australian Navy and Australian Industry have worked closely together to ensure that latest technology has been given to our Sailors in record time, giving the Royal Australian Navy world leading capability."