In this article, Dantherm explains why cooling units are essential equipment in the field, and what makes the company's rapidly deployable solutions a top choice for military and humanitarian aid personnel across the globe.
---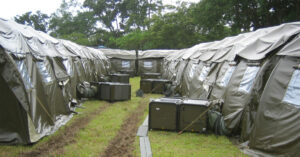 From arid deserts to humid jungles, military and aerospace personnel have to work in some of the most hostile conditions imaginable. When stationed in these harsh conditions, managing heat is a major challenge that affects comfort, safety and the overall success of an operation or training exercise.
Why is staying cool such a challenge?
Military-grade tents for personnel offer vital protection from the elements, but without sufficient ventilation, heat and humidity will build inside. While installing fans may seem like the fastest solution, in intense heat, this will just move hot air around the space.
Aside from causing general discomfort and creating difficult working conditions, hot climates can quickly become dangerous. Humid atmospheres combined with high temperatures cause discomfort and heat exhaustion, thus becoming a risk as the body struggles to cool itself down quickly enough. Without immediate action, this has the potential to result in health-threatening or even life-threatening conditions.
In very dry atmospheres, temperatures can change drastically between day, night, summer and winter because the low humidity levels allow heat to escape from the air more quickly. For example, some deserts in the Middle East can reach daytime temperatures of up to 55°C in the summer and drop below zero with regular snowfall during winter.
Why Dantherm air cooling units are deployed across the globe
Dantherm mobile cooling and heating units have played integral roles in military and humanitarian aid operations for more than 35 years. Produced at our facilities in Denmark and tested both on-site and in the field, our units are NATO approved and built to comply with military standards and requirements, as well as the ISO 9001 and 14001 standards.
Light-weight, easy to transport over rough terrain and purpose-built to handle harsh environments, Dantherm mobile units are capable of cooling and heating at temperatures as high as +60°C and as low as -40°C.
How Dantherm air cooling units work:
Dantherm air cooling units contain a cooling circuit and two powerful fans. The evaporator section contains a radial fan which draws warm air through the cold evaporator and blows out the cooled air through the side or the top of the unit. The condenser section contains two condenser coils and a large axial fan which returns the heat taken from the cooled air to the surrounding atmosphere. Units including the Dantherm AC-M18 can be equipped with an electric heating coil to provide warmth when temperatures drop.
From aircraft hangers and workshops, to soldier tents and temporary tactical operations centers, each solution we provide has to be site specific. That's why we work with tent and container manufacturers and camp integrators to provide customized units built to:
Operate at extreme temperatures
Minimize logistical costs
Easy to setup up, operate and maintain
Integrate cooling and heating systems
Maximize energy efficiency
To stay up-to-date with the needs of military and humanitarian aid operations as they develop across the globe, our team makes frequent visits to customers and sites currently using or interested in using our air cooling technology.
To find out about our expert support and extensive training courses, discuss your climate control challenges or learn more about the range of systems available, don't hesitate to get in touch.