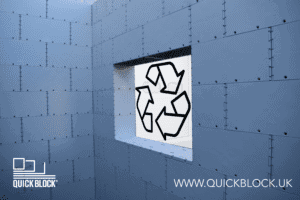 QUICKBLOCK offers a practical solution to the current world issue of plastic waste by offering a sustainable building material that can be used to create military and defense infrastructure.
Made from 100% recycled polypropylene, the company's building system has similar properties to that of bricks and mortar, but is instead manufactured from plastic injection moulding process, which is much less energy intensive than that of cement blocks. 
Whilst it is lightweight, QUICKBLOCK's building system is sturdy in its design, with structures being able to withstand 100mph winds and heavy rainfall to provide durable infrastructure for use as temporary field accommodation, operational bases and shelters, and military training and Fighting in Built Up Areas (FIBUA) solutions.
The blocks can be in-filled with materials such as sand, soil or type 1 hardcore to increase strength and stability. This insulation can also be used to increase thermal performance.
QUICKBLOCK is supplied in flat-packed form which makes them simple to transport and store until needed. The structures can be erected in minutes without the need for tools or additional equipment. They can then be dismantled, flat-packed, stored and reused to build something completely different at a later date, again reducing waste and offering a sustainable solution for protecting troops in an operational environment.
Check out the company's profile to learn more about its sustainable interlocking building system: https://www.defenseadvancement.com/company/quick-block/