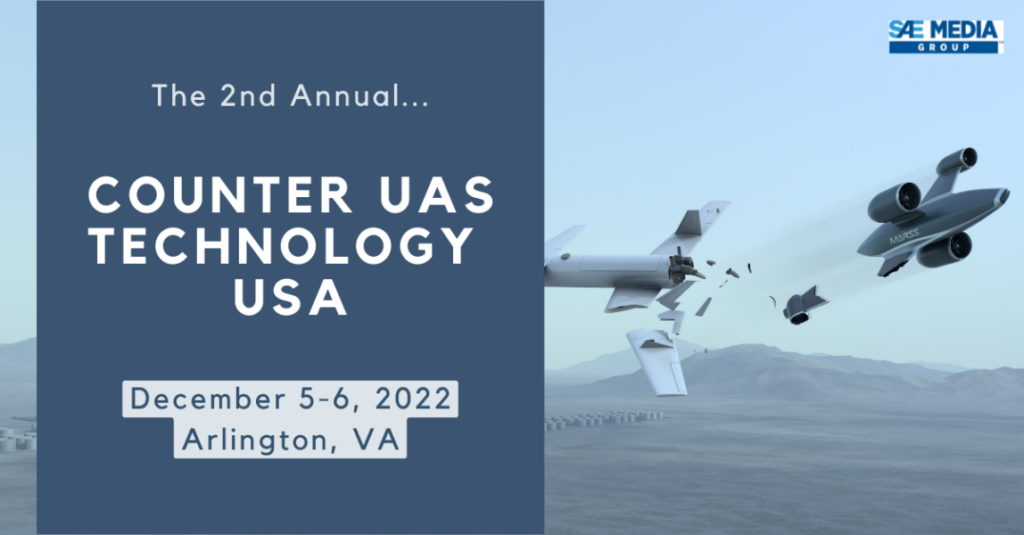 SAE Media Group has announced the participants of its second annual Counter UAS Technology USA Conference, taking place 5-6 December, 2022 at the Crystal City Marriott at Reagan National Airport in Arlington, VA.
Counter UAS Technology USA 2022 will welcome more than 150 senior personnel from US Department of Defense agencies, international defense organizations and leading industry providers.
The two-day agenda features more than 24 sessions from the military including insights from notable industry giants, giving attendees the opportunity to learn about and experience the latest in counter-UAS technology first-hand.
Organizations participating in the upcoming conference include:
Aaronia AG
Advanced Protection Systems
AeroVigilance
AFWERX
Amentum
Anduril Industries
Arete
Atolla Tech
Aveillant Ltd
Axient
Belgian Armed Forces
Beretta Optics Division
Berry Aviation, Inc.
Black River Systems
Black Sage Technologies
British Army
CACI International, Inc.
Carmenta, Inc.
CCDC Armaments Center, US Army
Convexum
Customs and Border Protection, US Border Patrol
Defense Technical Information Center
Department of Homeland Security
Department of National Defence
DEVCOM Aviation & Missile Center, US Army
D-Fend Solutions Ltd
Diplomatic Security
Dutch Air Force
Echodyne Corp.
EO Solutions
ESG Elektroniksystem- und Logistik-GmbH
Federal Bureau of Investigation
Federal Ministry of Defense, Germany
Federal Police of Germany
Fortem Technologies
FVEYs AFIC
HQMC Aviation
IDEX Optical Technologies
Imperative Systems LLC
Imsar LLC
Joint Counter-sUAS Office (JCO)
Joint Integrated Air & Missile Defense Organization (JIAMDO), Joint Staff J8
Kirintec Ltd
Leonardo UK
MARSS
MBDA
National Guard Bureau, US Air Force
NATO HQ
Northrop Grumman Corporation
Numerica Corporation
Office of the Under Secretary of Defense for Research and Engineering (OUSD R&E)
Oklahoma State University
Robin Radar Systems BV
SRC, Inc.
TCI International, Inc.
US Air Force
US Army Tactical Exploitation of National Capabilities (TENCAP)
US Army Test & Evaluation Command – Army Evaluation Center
US Coast Guard
US Federal Aviation Administration
US Marine Corps
US Military Academy at West Point
US Navy
UK Ministry of Defence
University of North Dakota
UVA Health System
Virginia State Police
Weibel Scientific A/S

…plus many more.

Counter UAS Technology USA
5-6 December 2022
Arlington, VA, USA
Lead Sponsor: MARSS
Gold Sponsors: Advanced Protection Systems | Echodyne | ESG | Kirintec | Ninja | Weibel Doppler Radars
Sponsor & Exhibitors: Axient | Amentum | CACI | Convexum | D-FEND Solutions | Fortem Technologies | Robin Radar Systems | ECS & TCI | University of North Dakota