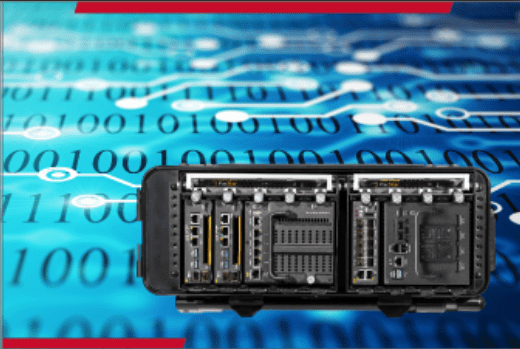 Curtiss-Wright Defense Solutions' PacStar business has introduced an enhanced configuration of its PacStar Modular Data Center (MDC). With support for NVMe storage and Intelligent Platform Management Interface (IPMI) remote management, the new PacStar MDC-NR delivers more compute power and NVMe storage (>8TB) than any other tactical data center.
Using IPMI, warfighters can remotely or programatically set-up and manage their tactical server hardware, greatly easing and speeding deployment. Using a remote keyboard, video and mouse over IP networks and the ability to remotely mount media resources, such as DVDs, USB drive and ISO files, eliminates the need for the operator to be physically present.
PacStar MDC-NR enables tactical and expeditionary teams to access data and compute resources using state-of-the-art cloud, virtualization, and containerization, even in Disconnected, Intermittent, and Limited (DIL) environments where WAN connectivity is not assured.
It can host a vast array of flyaway, command post, ground vehicle and aircraft applications for virtualized network functions, storage, analytics and cybersecurity technologies. It can be deployed dismounted, in forward operating bases, command posts, ground vehicles and aircraft, as well as in upper echelons – for military, intelligence, law enforcement, and Homeland Security use. When configured with VMware vSAN, PacStar MDC-NR is certified as VMware Ready for platform and compute.
"Our PacStar Modular Data Center are ready to field compute and storage solutions purpose built to deliver optimal performance at the tactical edge," said Chris Wiltsey, Senior Vice President and General Manager, Curtiss-Wright Defense Solutions.
"Representing our commitment to continually raise the bar for innovation and enhanced performance, our new PacStar MDC-NR features high-speed NVMe storage and enables remote management via IPMI."
"Warfighters today need compute and network solutions that support system hyperconvergence on the move," said Peggy Miller, Senior General Manager, PacStar Business Unit, Curtiss-Wright Defense Solutions.
"With remote management capability and super-fast, high-density storage, the PacStar 451-NR, combined with our IQ-Core Software, provides the easiest-to-use communications solution for maximum visibility into network operations and management, speeding the deployment of applications at the edge, to ensure access to advanced technology, even in a disconnected, intermittent and limited environment."