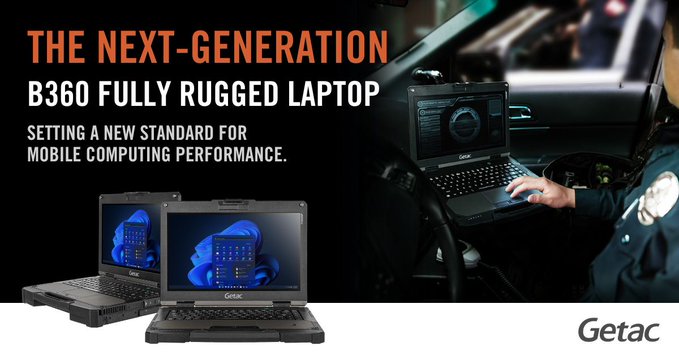 Getac has launched its next generation B360 and B360 Pro fully rugged laptops, designed to deliver exceptional connectivity, reliability, and computing performance to professionals working in challenging environments.
The new B360 is designed for challenging field-based industries such as public safety, utility field services and manufacturing, while the new B360 Pro is ideally suited to defense professionals.
Both laptops feature a wide range of upgrades and refinements to make difficult computing tasks simple, even in demanding conditions:
An upgraded Intel Core 12th generation i5/i7 processor with integrated Intel Iris Xe graphics allow for impressive performance, responsiveness, and visuals. A 256GB PCIe NVMe SSD as standard (with the option of up to 4TB) offers ample storage, while the 13.3″ FHD LumiBond display with Getac Sunlight Readable Technology (1,400 nits) and capacitive touchscreen helps maintain productivity.
The B360 Pro takes this further, with optional NVIDIA GeForce GTX1650 4GB discrete graphics controller, plus an optional media bay that can accommodate a third SATA SSD (for up to 6TB storage capacity), third battery, or a DVD drive as required.
For public safety and defense professionals, the B360 and B360 Pro's rapid analysis capabilities can be used to boost situational awareness and data sharing both up and down the chain of command.
Both the B360 and B360 Pro also offer extensive connectivity options, keeping users connected even in remote or isolated environments. These include Wi-Fi 6E AX211, 802.11ax, and Bluetooth 5.3 as standard, as well as optional 4G LTE or 5G Sub-6 with integrated GPS.
The new B360 and B360 Pro deliver better versatility in the field compared to previous models. New features include an upgraded USB 3.2 port, a Thunderbolt 4 Type-C port, an upgraded HDMI 2.0 port, as well as the addition of a mini-SIM card slot. Both devices also feature dual hot swappable batteries, while the B360 Pro has the option of a third battery if required.
These features are designed to help large field services teams maintain 24/7 productivity levels by enabling them to connect to a wide range of legacy infrastructure without the need for external adaptors. The inclusion of multiple hot swappable batteries as standard also helps avoid time being wasted while waiting for devices to recharge.
Like all Getac devices, the new B360 and B360 Pro are built rugged from the ground up for excellent reliability in the field. Both devices include MIL-STD-810H, MIL-STD-461G, and IP66 certification, as well as drop resistance up to 6ft (1.8m).
Despite this rugged build quality, they only weigh 2.32kg. Their compact form factor means they can be easily carried on foot in the field or docked/stored in a compartment while travelling in a vehicle.
Additionally, both devices feature numerous advanced data security features. These include a range of multi-factor authentication options (Windows Hello Webcam, HF RFID, smartcard, and fingerprint readers), optional Absolute Persistence software, and user replaceable PCIe NVMe SSD storage, to keep sensitive data protected at all times.
"The next generation of our B360 and B360 Pro devices are designed to help customers achieve even greater levels of productivity across their workforces, both in and out of the field," said Rick Hwang, President of Getac Technology Corporation. "The combination of fully rugged design, powerful specifications, extensive connectivity and compact form factor helps ensure difficult tasks get completed at first time of asking, regardless of the situation, location, or weather conditions."
Find manufacturers and suppliers of military-grade rugged laptop computers and notebooks for military use>>