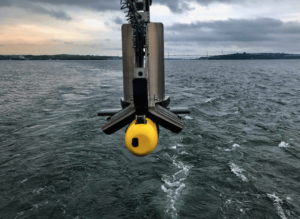 Kraken Robotics has been awarded a $4 million follow on order from a NATO Navy customer for KATFISH spares. 
KATFISH is a high speed, actively stabilized Synthetic Aperture Sonar (SAS) towfish that operates at speeds up to 10 knots.
According to Kraken, the high-speed capability, and constant resolution of KATFISH greatly increases Area Coverage Rates (ACR) by providing more useable data for mine countermeasure missions than traditional Side Scan Sonars.
KATFISH provides real time high-resolution ACR of up to 4 km2/hr with 3.3 cm x 3.0 cm constant resolution across ranges up to 200 m per side with simultaneous 3D bathymetry. (1.9 cm x 2.1 cm constant resolution is available with post-processing.)
KATFISH incorporates Kraken's latest generation Real-Time SAS processor, which enables real-time processing of SAS imagery and bathymetry. On-board Automatic Target Detection survey data and contacts can be viewed directly on the ship as it is collected, or remotely from a mothership or shore-based command station.
Delivery of the KATFISH spares is expected to occur during the next 12 months.
Find tactical sonar manufacturers and suppliers of military sonar systems and naval sonar for defense applications>>