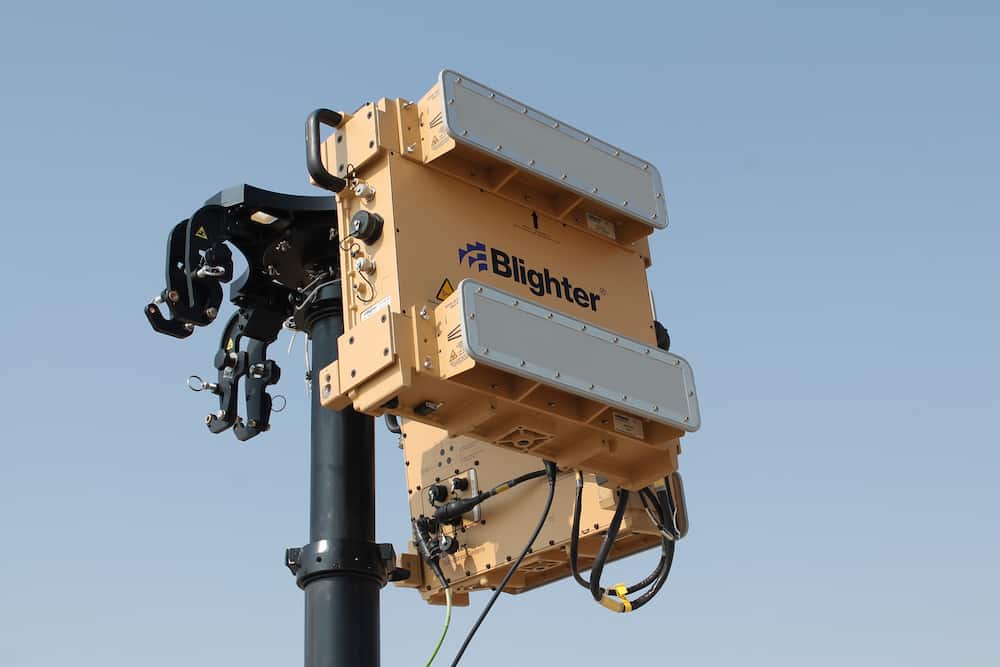 Blighter Surveillance Systems has been awarded a contract to supply vehicle-mounted tactical radars on an Unmanned Ground Vehicle (UGV) for a Northern European NATO customer for border security applications.
Under the contract, Blighter will supply its B422 180-degree ground surveillance e-scanning radar in a vehicle-mounted configuration to be fitted to a six-wheeled UGV, driven by the need for flexible and rapidly-deployable threat detection for perimeter and border security.
At this stage, the full complement of systems will be delivered and installed by the latter half of 2022. The B400 series of tactical radars are designed to provide long-range ground surveillance to detect moving vehicles and individuals up to 32 km from a fixed, mobile or portable position. The B400 series benefits from a very wide vertical elevation beam, allowing for simultaneous detection of targets both nearby and at great distance, with an unsurpassed level of ground clutter cancellation resulting in a low false alarm rate.
The radars will be augmented by electro-optical systems provided by a systems integrator for the program to provide the UGV with a full-spectrum approach to threat detection.
"We are pleased to have been awarded this contract, which exemplifies our expertise in providing integrated threat detection for armored vehicles," said Blighter CEO, Angus Hone. "This contract once again demonstrates our status as a trusted supplier of best-in-class e-scanning tactical radars to increase safety and security, not only in Europe, but throughout the world."
Blighter radars are deployed in more than 35 countries across the world, delivering round-the-clock all-weather security protection along borders, for coastal facilities, military bases and critical national infrastructure.