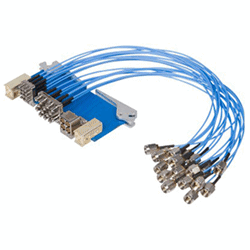 Interstate Connecting Components (ICC) has added Amphenol SV Microwave's full line of VITA 67 interconnects to its growing RF product portfolio.
With high-density cable assembly plug-in modules that mate to backplane adapters, the VITA 67 solution utilizes an SMPM interface and serves as the foundational coaxial interconnect for RF on the VPX platform.
The solution is designed for side-by-side implementation with VITA 46 hardware and meets MIL-STD-810 standards for shock and vibration.
The floating SMPM coaxial contacts ensure superior RF performance in any mating condition. The interconnects provide a minimal footprint, easy installation and significant reduction in the Mean-Time-to-Repair (MTTR).
As well as VITA 67.1 and 67.2 solutions, ICC is offering SV Microwave's VITA 67.3 connectors and cables. This newest specification has the advantage of customizable RF contact locations and features an edge-launch option that eliminates the need for cable assemblies on the plug-in card.
A rugged RF addition to the VPX platform, the VITA 67 solution offers a reliable embedded computing solution for aerospace and defense applications like SIGINT, EWR, ground base station and communication systems, avionics, radars and Air Transport Racks (ATRs).