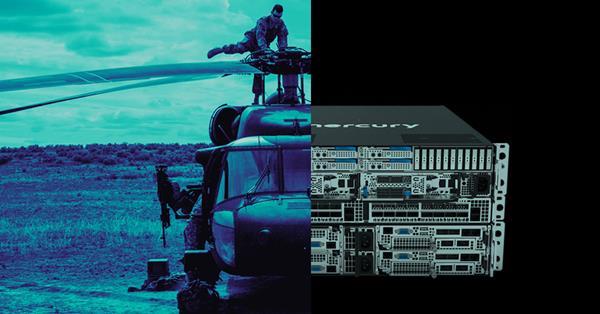 Mercury Systems Inc. has released a new Rugged Data Storage (RDS) system ruggedized for mission-critical defense, aerospace, and commercial edge applications.
The data center-class, all-flash network-attached storage (NAS) system is designed for low-latency, scalability, and security. Developed in collaboration with VAST Data Federal, RDS changes the paradigm for enterprise storage with a universal, single-tier flash cloud for all types of data that eliminates bottlenecks and complex storage tiering traditionally done with hard disk drives and other media.
The proliferation of sensors like radar and image capture have resulted in an explosion of data that is difficult to store, access, or analyze in real-time on conventional hard disk or flash drives. RDS' universal data storage approach enables fast, secure access to big data and Artificial Intelligence and Machine Learning (AI/ML)-powered exploitation at the edge, so users can make critical decisions quickly.
RDS utilizes commercial flash technology coupled with unique software algorithms from VAST Data to extend write endurance to 10+ years, as well as reduce disk space requirements via innovative data reduction and compression capabilities that lower total cost of ownership for Mercury customers.
Optimized for size, weight, and power-constrained rugged environments such as aircraft, ships, ground radar stations, and industrial applications, Mercury claims its RDS system improves performance, ease of serviceability, and data protection at the edge.
"Our new Rugged Data Storage system is purpose-built for mission-critical, extended operational environments," said Dusty Kramer, Vice President, Mercury Edge. "This is the first ruggedized solution that puts scalable, multi-petabyte, all-flash data storage next to the data source for edge-based, real-time applications like advanced threat detection and sensor fusion, demonstrating our commitment to putting cutting-edge innovation in the hands of our customers."
"We're excited to extend our revolutionary Universal Storage software to Mercury's innovative RDS system to allow military and aerospace users access to all their data at any time for real-time, mission-critical decisions," said Randy Hayes, Vice President, Public Sector of VAST Data Federal. "These all-flash, network-attached storage solutions are a testament to our deep collaboration with Mercury and commitment to placing software at the heart of modern data infrastructure."
Multi-Petabyte All-Flash Network-Attached Storage at the Edge
Universal, single-tier flash cloud for all types of data with high-speed NVMe performance to eliminate bottlenecks and complex storage tiering
DPU network acceleration, storage class memory, affordable hyperscale flash technology and VAST DATA software algorithms for fast access to big data, AI and ML insights over high-speed Ethernet
More short-depth storage boxes (D-BOX), compute boxes (C-BOX) and/or network switch boxes can infinitely scale performance or storage capacity
MIL-STD-810 ruggedization and integrated FIPS 140-2 security