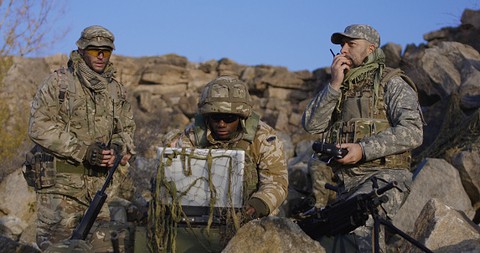 Cubic DTECH Mission Solutions, Instant Connect Software and Rally Tactical Systems are launching a joint offering in tactical radio interoperability to support and enhance seamless coalition force communications for the US military and its global allies.
Instant Connect's interoperable Push-to-Talk (PTT) platform, a proven IP-based push-to-talk solution powered by Rally Tactical Systems' Engage Engine, is integrated with Cubic's RoIP radio gateways, including the Vocality, M3X and M3-SE brands.
Servicing missions from the command post through the dismounted soldier or first responder, this military-grade hardware and software helps users achieve tactical missions with greater communications flexibility, situational awareness, and multilingual collaboration.
In addition, the next-generation radio/IP interoperability feature includes a versatile "any language to any language" translation capability that lets warfighters and coalition partners instantly communicate with each other, regardless of language, and keep multilingual missions on track.
"Cubic is proud to support the US military and its allies. Our collaboration with Instant Connect Software and Rally Tactical Systems further enhances and extends our Mission Forward focus and provides warfighters with the Radio over Internet Protocol (RoIP) environments they need to accomplish the mission," said Anthony Verna, Senior Vice President of CMPS DTECH Mission Solutions business. "The integration opens a world of opportunity to provide even greater radio and IP interoperability, performance and encryption, along with multiple-force, multilingual collaboration."
Forrest Claypool, Instant Connect's CEO, commented: "The Instant Connect PTT platform, integrated with Cubic RoIP gateways through the Engage Engine, offers coalition forces a range of best-in-class features that includes automatic language translation, super-lightweight serverless deployment, Android Tactical Assault Kit (ATAK) and Windows Team Awareness Kit (WinTAK) plug-ins, and superior interoperability across Mobile Ad Hoc Network (MANET) and other radio environments."
He added: "The caliber of our joint offering is irrefutable. For example, our PTT software solution is Joint Interoperability Test Command (JITC)-certified and included on the DoD Information Network (DoDIN)-approved product list, joining a select cadre of software products."
A demonstration of the Instant Connect, Rally Tactical Systems and Cubic collaboration can be seen during the Special Operations Forces (SOF) Week, May 9th–11th at the Tampa, Florida, Convention Center.
Find military communication companies and suppliers of military radio systems for defense, including low frequency (LF, VLF, ELF) and high frequency (HF, UHF, VHF) radio for BLOS and LOS communications >>