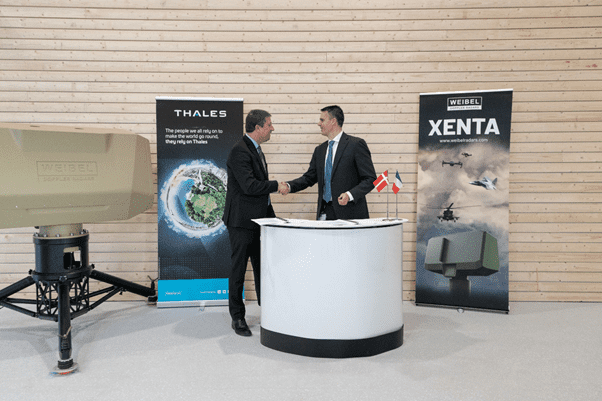 Four months after signing a cooperation agreement, Thales and Weibel Scientific consolidate their collaboration with a contract for 12 Weibel Doppler XENTA family short-range ground based mission radar for a Ground Based Air Defense (GBAD) solution within the Thales radar portfolio. 
The advanced Thales GBAD solution offers a bubble of protection for short, mid and long-range, with excellent detection capabilities to protect against complex, emerging threats such as Unmanned Aerial Systems (UAS).
Leveraging Thales' international experience, full digital radar technology, expertise in various bands and leading provider of defense mission solutions, this cooperation will benefit clients with a top class ground based short-range solution with outstanding counter UAS performances. In particular, this common offer cements the partnership between the two companies for the future Danish GBAD proposal ensuring maximum value for the Danish Armed Forces and the Danish defense industry, with a proven and leading turnkey solution.
The new contract sets another milestone for the European commercial relations between the Danish and French defense industry, and underlines Thales' commitment to invest locally through industrial partnerships and collaborations.
"It is at the core of Thales strategy to work together with local industry players and engage in local markets," said Tommy Ayouty, CEO Thales in Denmark. "The new contract strengthens the cooperation between Weibel and Thales, positioning both companies for future opportunities, reinforcing close collaboration and ties between the Danish and French defense industry."
"It is at the core of Thales strategy to work together with local industry players and engage in local markets," said Christophe Salomon, Executive Vice President, Land and Air Systems, Thales. "This contract consolidates our cooperation agreement and strategy to deliver the best performance in our ground based short-range radar portfolio, to jointly develop opportunities and as a leading provider of defense mission solutions, provide our customers with cutting-edge technology to meet the needs of today and tomorrow."
"This contract illustrates the value and strength of our partnership," said Frode Scott Nilsen, CEO of Weibel Scientific. "Thales and Weibel Scientific are a great match because our highly advanced and specialized radar technology compliments Thales' vast portfolio perfectly. With this contract, our ambition of becoming the number one radar supplier within Short Range Air Defencs and Counter UAS is one step closer to fruition."