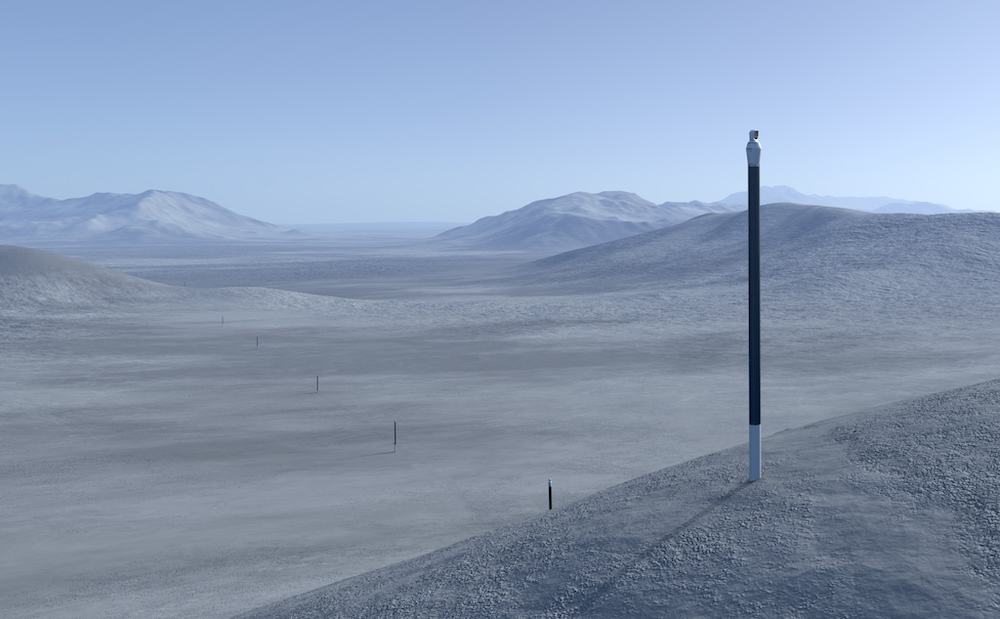 MARSS Group has released a new, easy-to-deploy perimeter surveillance solution, which has generated instant market interest including a new multi-million Euro contract signed in the Kingdom of Saudi Arabia.
A solar powered Artificial Intelligence (AI) surveillance solution, MARSS Group's RADiRguard system is entirely self-sufficient in its ability to rapidly detect, verify and manage threats using proprietary AI. Each system consists of a MARSS RADiRguard pod mounted on top of a solar-paneled pole, ideal for off-grid installations or can be embedded into fixed site infrastructure. The system combines information from sensors, radars, cameras, and AI to create an invisible fence solution. This approach replaces traditional perimeter security systems, delivering low false alarm rates and reduced life cycle costs with an all-in-one solution.
RADiRguard is operated through the intelligent MARSS software, NiDAR – an AI and Machine Learning (ML) powered operating system. Both RADiRguard and NiDAR operate simultaneously to assess and analyze surrounding environments to detect, verify, alert, and respond to objects of interest, with a high degree of probability.
"We are turning conventional surveillance technology on its head by creating a unified, standalone unit that operates autonomously to analyze surrounding environments using state-of-the art visual and sensing systems," MARSS Group CEO, Johannes Pinl, explained. "RADiRguard provides a faster and more accurate threat detection and management process to manage today's threats at a rapid pace."
This second generation RADiRguard was first unveiled at the World Defense Show in March 2022. Its development from the original RADiRguard product reflects MARSS Group's commitment to advancing cutting-edge technology for the protection of lives and assets.
The new contract in the Kingdom of Saudi Arabia (KSA) includes 50 units, including the MARSS NiDAR Command and Control (C2) platform and proprietary AI to protect a substantial amount of critical infrastructure in the Middle East. MARSS will supply, install, and commission the equipment in addition to providing Integrated Logistics Support (ILS) services, user training and, later, redundancy upgrades.
"The Middle East is a crucially important area for MARSS, both in terms of solving regional defense challenges and developing our company's strength in the market," said Andrew Forbes, MD of MARSS KSA. "The MARSS team is quickly expanding within the region and the RADiRguard contract win gives a huge boost to our ever-growing product range of surveillance and security solutions. We look forward to continuing our rapid expansion in the Kingdom and beyond."
According to MARSS Group, RADiRguard is the next generation of surveillance technology, with key benefits including:
24/7 autonomous security and decision support
25,000sqm of coverage in each unit
Up to 80% cost savings with off-grid solar powered installations
Early warning alerts of potential threats and an automatic best response recommendation
Scalable and modular to expand reach, awareness and capability based upon customer requirements
Intuitive interface to view perimeter information clearly and graphically to reduce operator cognitive burden
The system can be installed in an endless perimeter for scalability and flexibility to suit different needs and environments. Off-grid installation of RADiRguard removes the need for expensive electrical infrastructure as each installation is entirely self-sufficient through the patented solar paneled pole. Each unit also comes complete with a lithium-ion battery pack or fuel cell in the unit's base to operate as an alternative power supply to maintain operations at night, in sandstorms or bad weather.