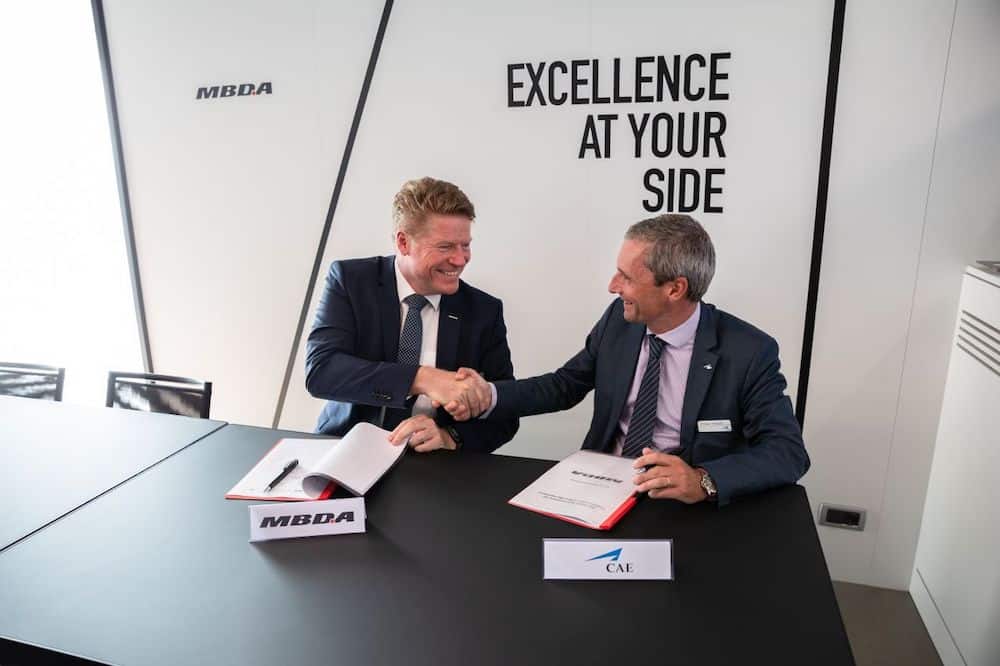 MBDA and CAE have entered into a partnership to jointly develop virtual simulation environments that support the development, training and use of network-enabled, collaborative effectors.
The companies signed a memorandum of understanding at ILA Berlin 2022 for the creation and deployment of simulation environments for network-capable guided missiles.
The live virtual constructive environment will help armed forces with mission planning and optimization, operational behavior forecasts, and testing and evaluating operational deployment concepts. In this way, armed forces are supported in planning and carrying out necessary analyzes to adapt Tactics, Techniques and Procedures (TTP). The focus is on the live virtual constructive environment, which enables real-time training, testing, mission planning and the coordination of different effectors in use.
MBDA Germany and CAE will further develop the key technologies required for mission planning, collaborative algorithms and sensor data fusion. MBDA will provide the necessary hardware and missile algorithms for development; CAE will contribute its expertise in the field of highly complex simulators.
"Virtual simulation helps to validate the operational concepts of collaborative missiles and to further develop our effectors technically. This is crucial against the background of constantly changing operational framework conditions," said Guido Brendler, Head of Sales and Business Development. "Our cooperation partner CAE is a proven specialist for synthetic environments. We will present the first results of our partnership together at the ILA."
"Visualization and well-founded decisions will be crucial for military success in the future," said Thibaut Trancart, CAE Managing Director for the Europe and Middle East region. "Our years of experience in delivering simulation training and synthetic environments combined with MBDA's advanced technologies and effects management in a multi-domain environment provide our customers with safe, fast and cost-effective training and deployment opportunities."