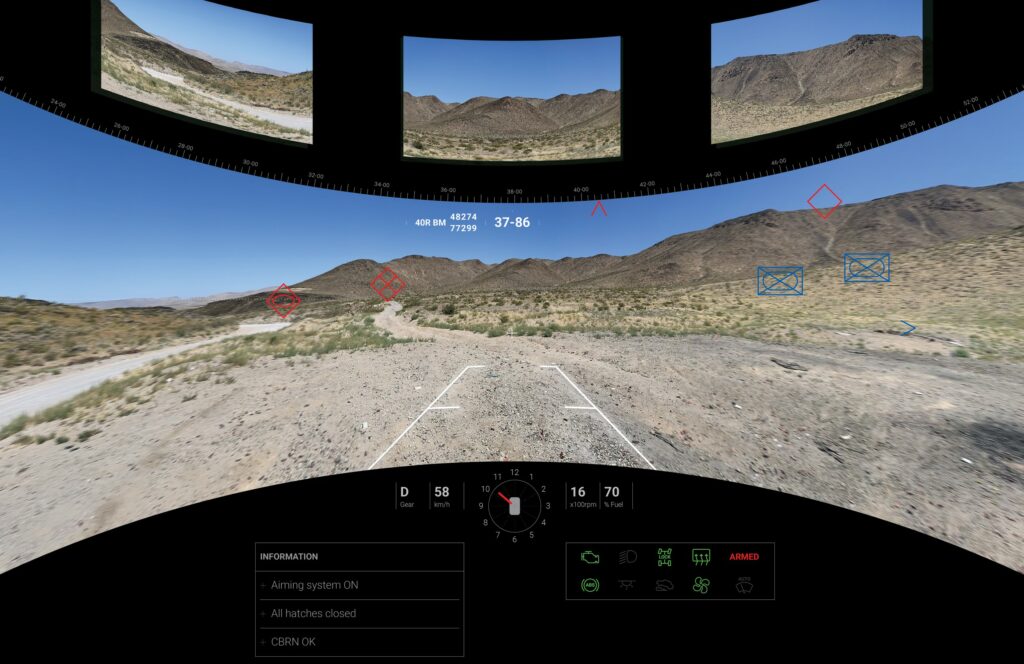 Field tests and a recent successful demo with the Croatian Ministry of Defence have given Estonian-Croatian start-up Vegvisir the opportunity to prove capabilities of its Mixed Reality Situational Awareness System (MRSAS) on four different platforms, ahead of a planned product launch in September 2023.
Vegvisir is designed to enhance situational awareness on armored vehicles with the help of vehicle-mounted cameras, a fully immersive ultra-low latency headset and supplementary data overlay capability. The system is able to give the vehicle's personnel a 360-degree overview of what is happening in the immediate surroundings of the vehicle, thus enabling the users to better orientate and make more effective decisions on the battlefield.
"Vegvisir offers several new opportunities for vehicle personnel, providing a highly customizable solution that allows the clients to choose the most relevant capabilities. This means that the exact types of cameras, sensors, overlays and integrations Vegvisir offers can be chosen based on the needs of the end-users and the platform used," said Vegvisir's CEO Ingvar Pärnamäe.
This versatile system caters to drivers, commanders, gunners, and dismounts operating obstructed field of view platforms, offering live connectivity through network-based communication. Its dedicated user interface designs for each platform position, coupled with mixed reality technology, allow for customizable experiences without limiting platform requirements or the integration of various digital interfaces (e.g. Battlefield Management Systems, CAN-BUS, vehicle information system, navigation, etc).
Examples of capabilities available include virtual overlays of friendly and enemy information on live video feeds, real-time position and heading information. By offering these features, Vegvisir not only enhances situational awareness but also reduces the threat to troops and increases the chances of mission success.
"The system has undergone rigorous testing on different armoured platforms including personnel carriers and infantry fighting vehicles. We are anxious to evaluate Vegvisir's integration capability on other platforms and are in touch with several prestigious manufacturers to set up new tests for the coming months. With each demonstration, we have received overwhelmingly positive feedback as well as invaluable insight allowing our engineers to better adapt the solution to the end-users' needs and requirements," Pärnamäe commented.
The most recent field test of the Vegvisir system was conducted in cooperation with the Croatian Ministry of Defense and the Croatian Army in May 2023. The test took place at the Petrinja military barracks with the support of the Guards Mechanized Brigade with Vegvisir integrated on Patria AMV 8×8 armoured vehicle. The two-day demo involved driving on rough gravel roads in off-road conditions at speeds up to 60 km/h for approximately 12 hours, allowing the drivers and commanders to experience the Vegvisir Mixed Reality Situational Awareness System. Members of the mechanized units saw substantial potential for the commander, and tank unit members also expressed their interest in using the system in future.
Earlier, Vegvisir has carried out field tests with the Estonian Defense Forces, which involved the armored personnel carrier Patria XA-188 6×6, Patria XA-180 6×6 and the infantry fighting vehicle CV-9035.
"Our solution has shown great potential and has naturally gained a lot of attention among the manufacturers of various platforms. We are certain Vegvisir will receive a warm welcome when we launch it this September," Pärnamäe added.
Find suppliers and manufacturers of Military Situational Awareness tools & equipment for tactical and dismounted operations, including cyber and training solutions >>