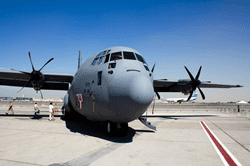 Valence Surface Technologies Wichita has received a wide range of processing approvals to support the Lockheed Martin C-130 Hercules and all of its variants.
Valence Wichita's first Lockheed Martin approvals enhance Valence's ability to support the Central U.S. C-130 supply chain.
Obtaining these new approvals also furthers Valence's strategy to provide regional redundancy and supply chain risk mitigation across both its Wichita, KS, and Grove, OK facilities. Valence can now support all Central US C-130 suppliers at either location.
In addition to these C-130 approvals, Valence Wichita is also working on expanding its Lockheed Martin approvals for the F-35 and F-16 fighter jet programs, further expanding Valence's ability to support all Lockheed Martin programs in the Central Region.
These new approvals include:
MIL-STD-6866/ASTM-E-1417 Penetrant Inspection
STP53-201/LCP72-1068 Penetrant Inspection
Hardness/Conductivity Inspec. Wrought Alum Alloy
ASTM E 18 Hardness Testing Rockwell Method
ASTM E 1004 Conductivity of Aluminum
MIL-A-8625, Type 1 and Type 1B Chromic Acid Anodize
MIL-A-8625 Type II Sulfuric Acid Anodize
MIL-A-8625, Type III Hard Anodize
STP 58-209 Chromic Acid Anodize
STP 58-208 Sulfuric Acid Anodize
STP 58-206 Hard Anodize
AMS-C-5541/MIL-DTL-5541, Type I, Class 1A and Class 3 Chem Film
STP 58-405 Chem Film
MIL-C-27725/AMS-C-27725 Fuel Tank Coating
STP 59-505 Fuel Tank Coating
G604 Application of Finish for C130 Hardware MIL-L-46010 / MIL-PRF-46010 Solid Film Lubricant STP 62-005 Solid Film Lubricant
AMS 2430 Shot Peening
STP51-501 Shot Peening
STP57-301 Aluminum Alloys-Alkaline/Acid Metal Removal Methods
STP57-401 Titanium Alloys-Alkaline/Acid Metal Removal Methods