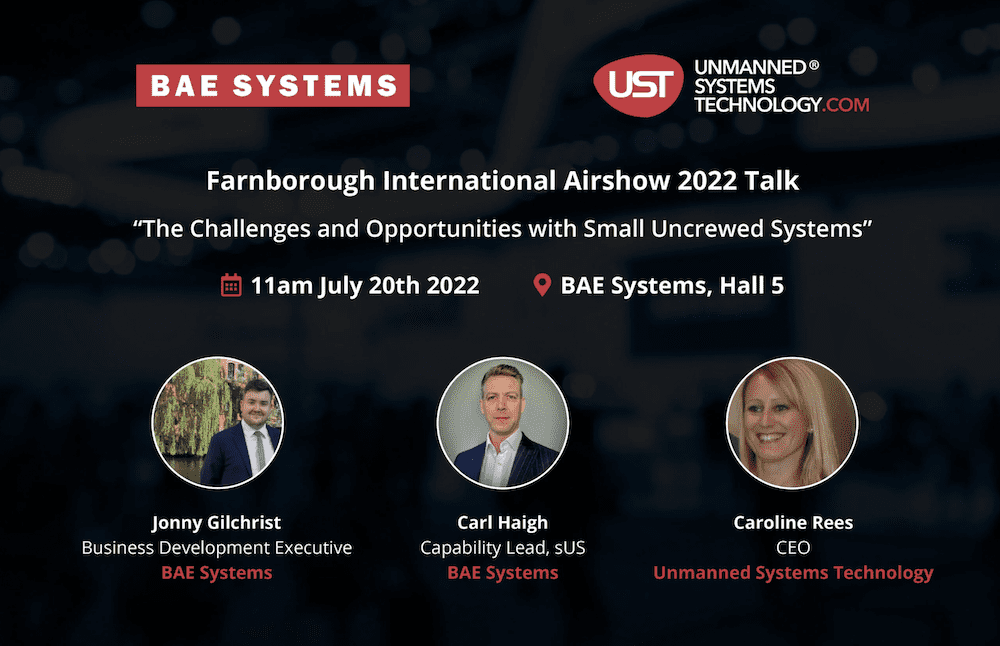 Following a successful collaboration earlier this year, UnmannedSystemsTechnology.com (UST) will join the BAE Systems Small Uncrewed Systems team at Farnborough International Airshow for a talk outlining some of the current challenges and opportunities with small uncrewed systems.
The talk is open to all show attendees and will be held at 11am on Wednesday July 20th at the BAE Systems pavilion in Hall 5. Those unable to attend in person will be able to view online via a live WebEx.
Register your interest in attending and receive the WebEx link >
"We're delighted to have been invited by BAE Systems to join them for this talk, where we'll share some of the challenges faced by our clients in trying to engage with Prime contractors in this industry," remarked Caroline Rees, CEO at Unmanned Systems Technology. "It is a great opportunity for SMEs both within and outside of the UST ecosystem to learn about sUS challenges and opportunities, and to be introduced personally to engineers within the sUS team at BAE Systems."
Farnborough International Airshow takes place from 18-22 July 2022 at the Farnborough Airport in Hampshire, UK. The event is one of the world's largest aerospace and defense exhibitions, attracting thousands of exhibitors and visitors.
In Hall 5 BAE Systems will showcase advanced technology, products and services that can help maintain an advantage in the air – now and in the future.
UnmannedSystemsTechnology.com is an online community of over 200 companies worldwide, that showcases technical innovations and solutions for the uncrewed and autonomous industry. Clients who would like to request an introduction following the talk, or would like to receive a WebEx link to join online should email [email protected].