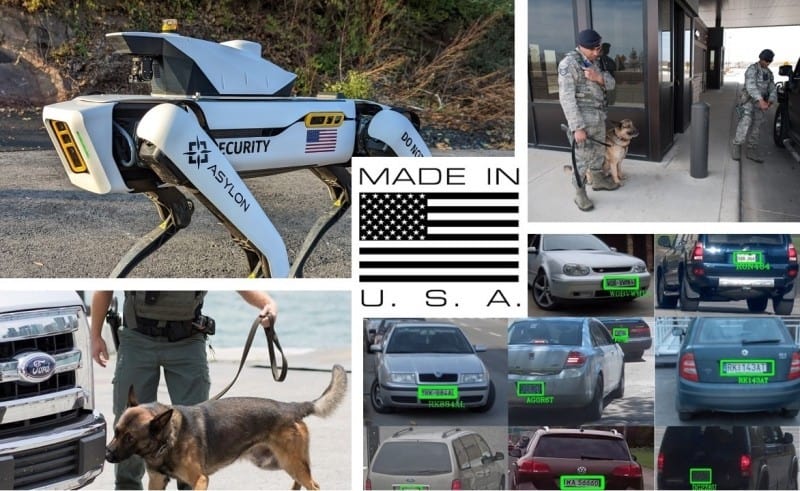 Robotic security solutions provider Asylon Inc. has been awarded a Phase I Small Business Innovation Research (SBIR) contract by AFWERX to explore the transition of its TRL9 commercial DroneDog security robot system for augmenting Military Working Dog (MWD) readiness and enhancing force protection.
With more than 10,000 miles patrolled for commercial clients, Asylon's DroneDog is a high-endurance, agile, and durable Quadruped Unmanned Ground Vehicle (Q-UGV) built to automate ground-based security patrols.
The system leverages Boston Dynamics' Spot robot along with Asylon's custom-built PupPack, DogHouse, and DroneIQ Software. With live video monitoring, remote teleoperation, daytime/nighttime cameras, automated charging, and more, DroneDog's goal is to make perimeter security easier by bringing the power of advanced robotics to the security operations center. 
Under this AFWERX contract, Asylon will explore how advanced sensor technology and AI/ML technologies can enhance gate guard procedures by integrating them onto the company's existing DroneDog system. These integrations include sniffing technologies for Explosives & Narcotics, License Plate Recognition Software, and Facial Recognition.
"This award presents a tremendous opportunity for Asylon to validate a significant problem set with detection dogs for both defense and commercial use-cases," said Michael Quiroga, Chief Revenue Officer. "If proven successful, these integrations would open a completely new market for our DroneDog system to enhance detection dog use-cases around Air Force Bases and commercial facilities."
Find suppliers and manufacturers of unmanned ground vehicles for military and defense operations>>