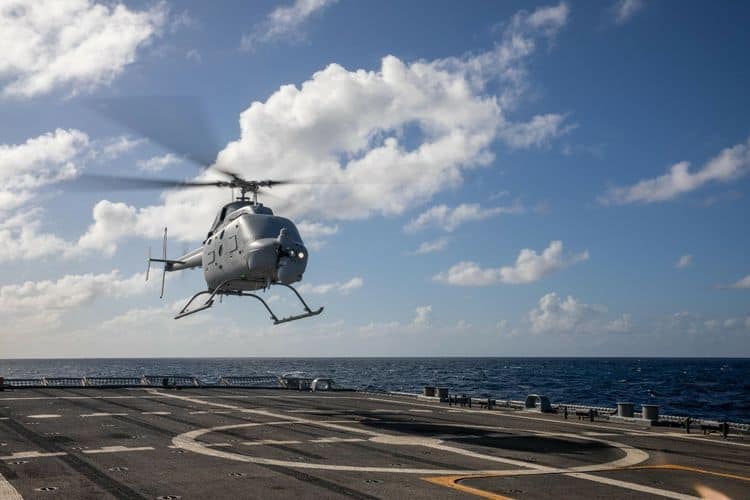 Northrop Grumman Corporation's MQ-8C Fire Scout, the U.S. Navy's next generation ship-based autonomous helicopter, was deployed operationally with Helicopter Sea Combat Squadron 22, Detachment 5 (HSC-22 DET 5) aboard USS Milwaukee (LCS-5), in December 2021. 
MQ-8C Fire Scout brings increased speed, endurance and payload capacity to maritime operations to provide greater organic Intelligence, Surveillance, Reconnaissance and Targeting (ISR&T) capabilities for the U.S. Navy.
"This is a significant milestone in the MQ-8C Fire Scout program," said Capt. Eric Soderberg, U.S. Navy. "The transition from the MQ-8B to the MQ-8C Fire Scout has brought improved sensors and more than doubles the on-station endurance. Advances in Fire Scout's capabilities further our successful integration of unmanned platforms at sea and the Navy and Marine Corps unmanned campaign plan."
The system provides operators 10+ hours of endurance and range of over 1,000 nautical miles, allowing for adaptable mission sets, including real-time over-the-horizon targeting. When operating with manned aircraft, Fire Scout enables commanders to employ manned assets in a more focused manner.
"Our partnership with the U.S. Navy has been critical in developing Fire Scout's multi-mission autonomous capabilities which provide greater situational awareness to the joint force," said Lance Eischeid, director, Fire Scout program, Northrop Grumman. "With the ability to operate from a range of surface ships, MQ-8C Fire Scout is a powerful platform that allows the U.S. Navy to increase the detection and tracking of targets through its onboard sensors and integration with manned assets."
MQ-8C Fire Scout leverages a Bell 407 commercial aircraft for its airframe, supporting affordability through reduced lifecycle costs, including initial development, supply chain and flight hour reliability. MQ-8C Fire Scout is also equipped with a Leonardo AN/ZPY-8 (Osprey) radar which enables it to detect and automatically track contacts at extremely long ranges, at night and even in extreme weather conditions when visibility is poor.
Designed in San Diego, California and Fort Worth, Texas by a joint Northrop Grumman/Bell team and manufactured in Ozark, Alabama and Moss Point, Mississippi, the MQ-8C achieved initial operational capability in June 2019 and will begin replacing the MQ-8B variant on upcoming deployments.