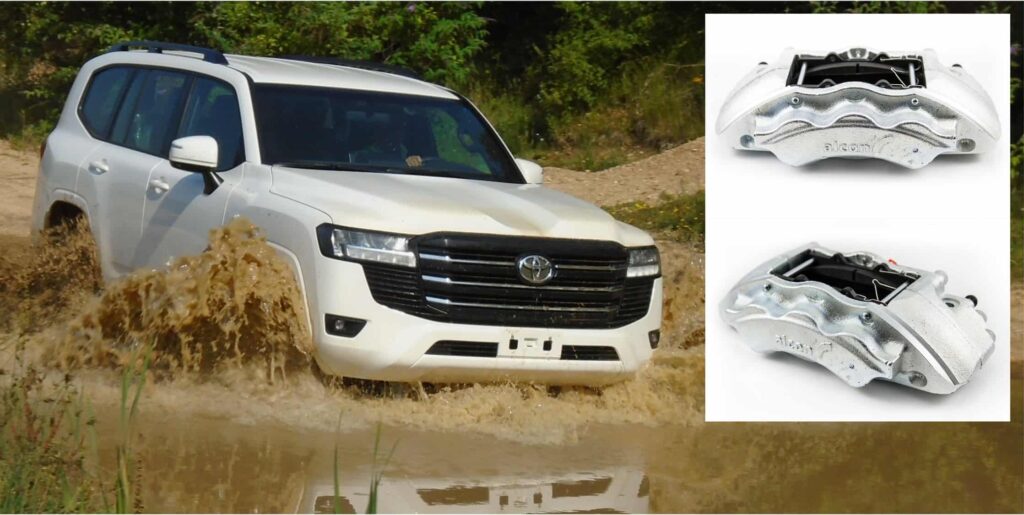 High performance braking specialists Alcon Components Ltd has launched a ready-made solution for the essential brake upgrade required to accompany the weight-adding armoured modifications, where the stock braking system will become challenged, affecting performance but more importantly, safety.
Launched by Toyota in June 2021, the new 300 series Toyota Land Cruiser has already been taking the market by storm. The LC300 is expected to follow in the footsteps of its 78/79 and 200 series predecessors, becoming the vehicle of choice for armoured defence, security and NGO use, globally.
Alcon's new LC300 kit is similar to the already well-proven LC200 kit but adapted to fit the new vehicle and engineered to match the new vehicle dynamics and the increased levels of technology and complexity present in the new Toyota base vehicle design. Fitting the brake upgrade kit will increase available brake torque, reduce brake fade and fluid vaporisation, extend brake service intervals and reduce through life costs.
As well as the LC300, Alcon brake kits are available for a wide range of armoured and specialist SUV's. Alcon's off the shelf brake kits allow both OEM's and vehicle modification companies to overcome the challenges posed by up-armouring vehicles for both defence, security and specialist purposes. The kits are compatible with stock OEM actuation, so are easy to fit but have been fully "ruggedised" to ensure extreme levels of robustness and performance balanced with the requirement to keep weight to a minimum.
Jonathan Edwards, Group Sales Director at Alcon said: "We're very pleased to announce the launch of this new brake upgrade kit today that will be a welcome addition for the entire armoured vehicle market, that is currently working hard to develop and certify their new armoured Toyota LC300 designs".
He added: "We have worked extremely hard to develop off the shelf solutions to meet the requirements of OEMs and vehicle modification companies and this new LC300 kit adds to that story. The continuing strength of our world-wide sales confirms that Alcon brake kits meet the necessarily demanding requirements of the defence and security armoured vehicle sector as well as other specialist users".
The announcement of the new brake upgrade kit coincides with the DSEi exhibition in London 14-17 September 2021.