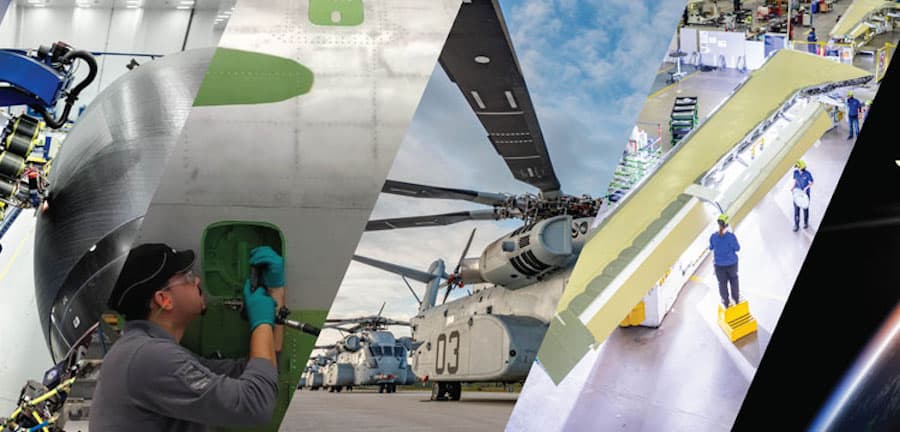 The Belfast division of Spirit AeroSystems will lead Team Mosquito, comprising of Spirit Belfast, Northrop Grumman and Intrepid Minds, on further development of the Royal Air Force's (RAF) Lightweight Affordable Novel Combat Aircraft (LANCA) concept to full demonstration capability.
Initially supporting more than 100 STEM jobs at Spirit Belfast's facility, the project has the potential to sustain further expertise in the wider UK supply chain.
Exploiting agile design principles, sophisticated digital applications, and advanced manufacturing skills, the team will generate knowledge and evidence for a potential follow-on project.
With expertise in advanced composite manufacturing solutions, Spirit Belfast will adapt its resin transfer infusion technology to produce a lightweight vehicle capable of uncrewed, high-speed flight. Benefits of using extensive composite components, compared to all-aluminium aerostructures, include reduced maintenance and fuel consumption for aircraft operations.
"Spirit Belfast is delighted to lead the delivery of a national programme enabling the development of cutting-edge technologies while maintaining critical skills in the UK," said Scott McLarty, Senior Vice-President of Spirit AeroSystems, Airbus Programs.
"Supporting the MOD's strategic objectives on pace, affordability and operational capacity, Team Mosquito will help drive collaborative innovation and competitive advantage. We are excited to develop this relationship with a view to contributing to a more sustainable industrial base for UK defense."
Northrop Grumman will supply its international DA/RC (Distributed Autonomy / Responsive Control) technologies, gateway offerings and advanced mesh networking capabilities to the aircraft. These enable seamless human-machine collaboration and cooperative mission management across distributed manned and unmanned assets.
"Our team will help deliver the required development cost and time savings by providing our expertise in Agile development and DevSecOps to enable a model-based, digital design approach," said Katharine Sealy, Director of National Security Solutions, Northrop Grumman UK.
Intrepid Minds will cover the complete avionics system, power, lighting and integration with the ground control station. As part of this project, the company brings its own Adrestia system currently being deployed across the air, surface and subsurface domains.
Having already integrated into many civil and defense systems, Intrepid Minds is using that speed of development to generate a cohesive structure across all partners and suppliers.
Intrepid Minds Managing Director, Adam Smith, said, "Our ability to pull in the best technologies from suppliers and integrate them centrally with our Adrestia system and Spectre hardware can rapidly enhance a system of systems approach. We are delighted to be involved in developing potential UK sovereign capability in ways that could work across the services."