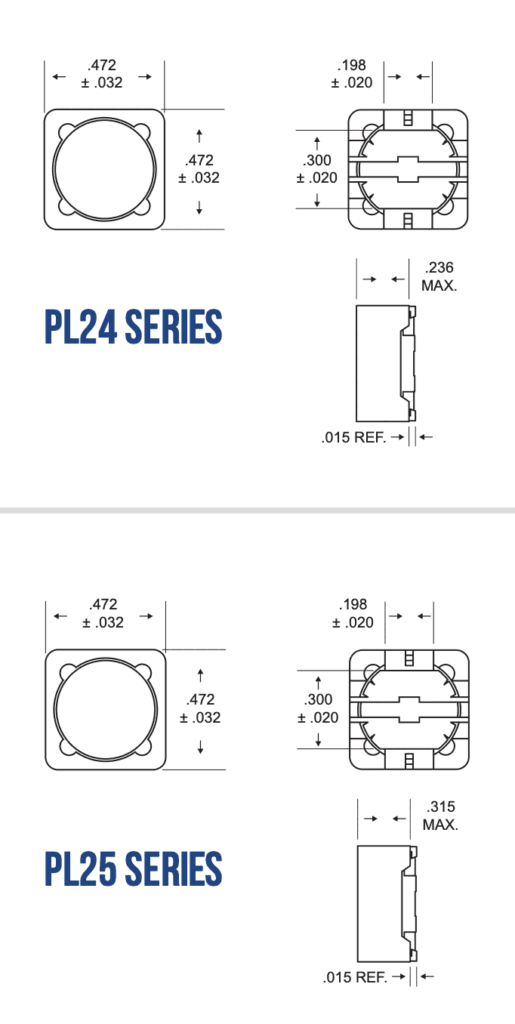 Vanguard Electronics has released two new series of shielded high current surface mount power inductors, PL24 and PL25. These new power inductors are designed for power supplies, POL and general power needs in the defense, aerospace, and space industries, as well industries such as medical, oil and gas, or other industries with demanding applications.
These new power inductors offer state of the art capabilities for all applications. The parts are shielded and offer inductance ranges up to 1000uh with current ratings up to 8.5A. The parts exhibit very low DCR, which allows for high efficiency while keeping heat generated to a minimum. The parts are designed to meet the high shock and vibration commonly tested in MIL-STD-202 and have been tested well more than 100 thermal cycles described by MIL PRF 27.
"The Vanguard team is very pleased to announce the addition of the PL24 and PL25 to its extensive offering of power inductors," said Scott Harris, Vanguard Electronics Director of Sales.
"These new parts have been designed to meet increased market demand for high power and compact magnetics. The parts are offered in a tin/lead termination or in a RoHS offering. The parts are also compliant with MIL STD 981 or can be tested to your source-controlled drawing. In Q1 2022, you expect to release the MIL-STD-981 Space qualified, version SPL24 and SPL25. Current lead-times are among the industry best, stock to 8-week delivery."
"This is one of the most robust power inductors to enter the market. With operating temperatures from -55°C to +125°C, this is going to be a workhorse of a part," said Jason Finley, Vanguard Electronics President.
"It can be used in a variety of power applications ranging from missiles to radios, avionics, subsea, space and more. I am very proud of the innovation of the Vanguard team that has combined the high current, high efficiency performance requirements of the industry with the demands of a high reliability environment."