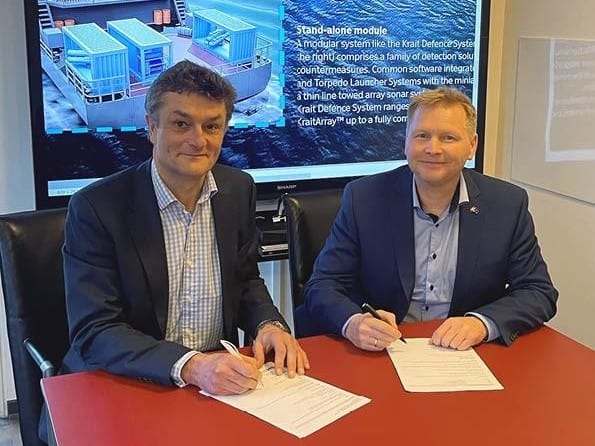 Systems Engineering & Assessment Ltd (SEA) has signed a Memorandum of Understanding (MoU) with SH Defence, a Danish equipment provider, to explore the development of advanced modular solutions for future naval platform designs and retrofit projects.
The partnership will be focused on incorporating SEA's innovative technology, including its Agile Anti-Submarine Warfare system, KraitSense, and leading Torpedo Launcher Systems (TLS) into The Cube, an innovative modular system designed by SH Defence for hosting and deploying specialized equipment on naval platforms.
The Cube System is a plug-and-play mission module for air, surface, and subsea domains, operated from a Cube-Ready platform. The system provides infrastructure to handle and move mission modules on deck or replace existing modules in the mission bay. It gives platforms multi-mission capability while also allowing more effective use of limited platform numbers. Retrofit or upgrades of existing platforms can also significantly extend fleet capability.
Guy Hope, Business Development Executive at SEA, said: "The future is modular. Adaptability is at the heart of next-generation maritime platform design for leading navies worldwide. Systems such as The Cube enable rapid mission reassignment that allow navies to effectively defend themselves against modern, complex, and changeable threats. SH Defence has signed agreements with many leading shipbuilders worldwide, making it the perfect partnership for us to explore how modular systems can enhance our protective technologies, such as the KraitSense and the TLS. We're looking forward to collaborating closely with SH Defence to optimize our solutions to provide the maximum benefit for end users."
Rene Bertelsen, Chief Executive Officer at SH Defence, added: "The Cube is fast becoming the leading modular system for navies, and we are constantly looking for suppliers of the most innovative naval technology to integrate with our system. In SEA, we have found a company whose solutions are well suited to The Cube due to their inherent flexibility and proven capability. We're looking forward to working with the team to develop further Cube solutions."