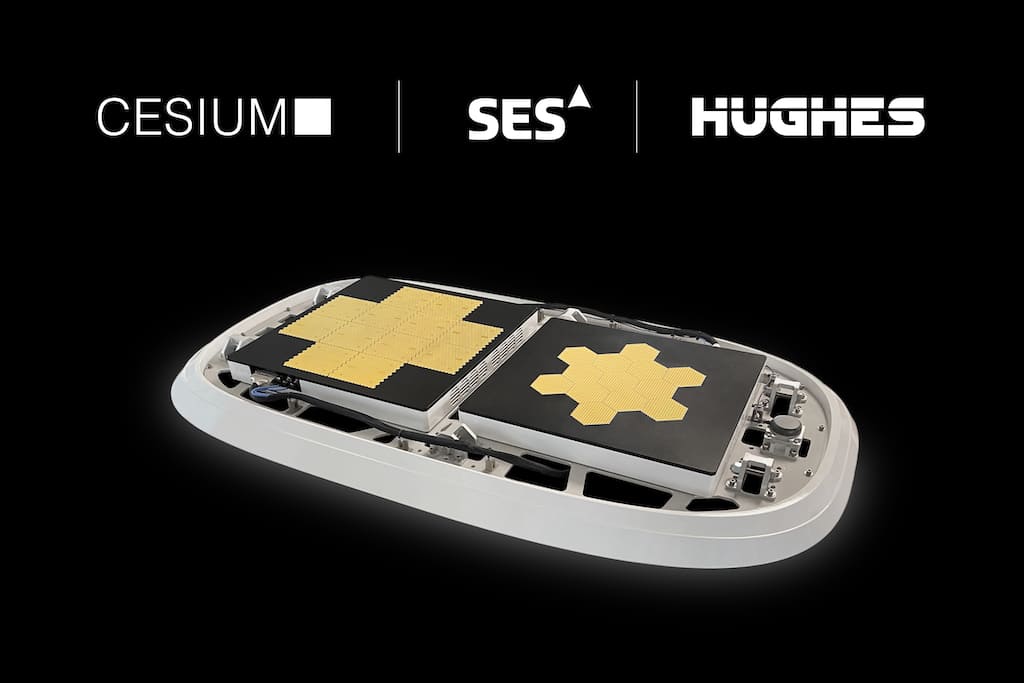 CesiumAstro, Hughes, and SES have completed successful over-the-air (OTA) demonstrations of a scalable Ka-band active phased array terminal for satellite communications (SATCOM).
Conducted by CesiumAstro, the demonstration paired the company's medium form factor terminal with the Hughes HM400 software-defined modem, connecting through SES's geosynchronous orbit (GEO) satellite.
This demonstration is a key point in CesiumAstro's journey to flight-qualify its Ka-band SATCOM terminal on commercial and defense platforms.
CesiumAstro has also been contracted to demo its terminal aboard a U.S. Air Force MQ-9A Reaper unmanned aerial system (UAS) in support of the military's need for enhanced, higher throughput connectivity aboard airborne vehicles.
CesiumAstro's SATCOM terminal seamlessly connected with SES's satellite on both stationary and mobile platforms, demonstrating transmit and receive link closure to the satellite, and to a Hughes ground station in Woodbine, Maryland.
The CesiumAstro team surfed the internet as well as streamed full-motion video and a live webcam feed from the terminal to a remote site, replicating the required capabilities of commercial inflight connectivity and UAS intelligence, surveillance, and reconnaissance (ISR) missions.
The company will complete a flight demonstration with Airbus in early to mid-2024. It is on schedule to deliver hardware for this demonstration in Q3 2023.
"This demonstration showcased the functionality and maturation of the industry's first multi-beam capability allowing utilization of the terminal's electronically steerable beam to maintain connectivity on the move," said Wayne Phelps, program lead at CesiumAstro. "We look forward to many more program successes over the next six months as our team completes our next set of demonstrations for this terminal."
"The Hughes team is proud to join CesiumAstro and SES in demonstrating the power and flexibility of satellite connectivity in meeting mission requirements of the U.S. Department of Defense," said Rick Lober, vice president and general manager, Defense & Government Systems Division, Hughes. "This is an excellent example of how the Hughes Military air and ground system supports Beyond Line of Sight (BLoS), resilient communication and the implementation of Primary Alternate Contingency Emergency (PACE) plans."
"We appreciate SES and Hughes for their support on this OTA demonstration," said Shey Sabripour, founder and CEO of CesiumAstro. "Flat-panel SATCOM with multi-beam and multi-orbit capabilities is game-changing in both the commercial and defense airborne terminal markets."
Find suppliers and manufacturers of Military Satellite Communication Systems >>