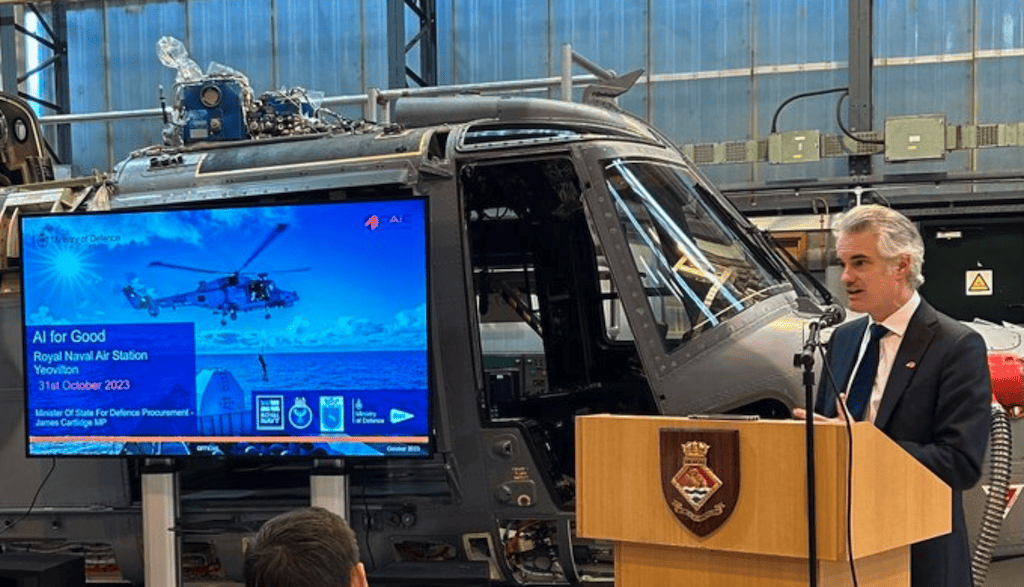 DE&S has teamed up with with the Royal Navy to investigate how AI can boost the reliability, availability and safety of Wildcat helicopters.
Under a collaborative project, the DE&S Digital AI Team worked alongside 1710 Naval Air Squadron (based in HMNB Portsmouth), and Royal Navy Engineers to showcase the pioneering new capabilities of the innovative defence software tool 'Motherlode' which now utilises artificially intelligent software.
This means it can process aircraft maintenance data at a rapid pace, reducing lengthy problem-solving tasks down to seconds.
The cutting-edge software ensures that engineering problems are detected at the earliest possible point, rather than when the fault becomes problematic, allowing personnel to order spares ahead of issues arising.
The AI-enabled software will be capable of analysing historical data tailored to environmental and aircraft specific conditions to predict failures within equipment more accurately, allowing smarter decision making from the back office to the frontline.
By implementing smarter logistical and engineering decisions, Motherlode will also help to ensure key defence equipment will be optimised, whilst remaining cost effective.
The full capability will be rolled out by the end of 2023 across all Royal Navy helicopters, and we are exploring its use on other Defence equipment like land-based vehicles such as the Foxhound.
UK Prime Minister Rishi Sunak recently announced the creation of the Frontier AI Taskforce with an initial £100 million of funding to spearhead the UK's leadership in this area. The UK spends more money on AI safety research than any other government in the world, with the AI industry in the UK employing more than 50,000 people and contributes £3.7 billion to our economy.
The Minister for Defence Procurement, James Cartlidge, visited RNAS Yeovilton to witness first-hand the capabilities the new technology, which will be used across multiple platforms including the Wildcat Maritime Attack helicopters. The Minister's visit comes ahead of the UK government's AI Summit at Bletchley Park on 1 and 2 November. Investing in artificial intelligence is paramount to the continued modernisation of our Armed Forces and is a priority for the government.
Cartlidge said; "By investing in the power of artificial intelligence, we are ensuring that our defensive assets are not only technologically superior, but also operate with precision, efficiency, and amplified safety. We should be proud to harness the UK's exceptional AI talent and foster the collaboration between our brightest minds in technology and the future of defence capabilities."
Steven Hodson, DE&S Digital AI Team leader, said; "Working collaboratively alongside our military colleagues has allowed us to demonstrate how we can harness AI technology to build our competitive edge, and drive operational excellence and safety to improve defence."
Find suppliers and manufacturers of Asset Management Technology and Software >>