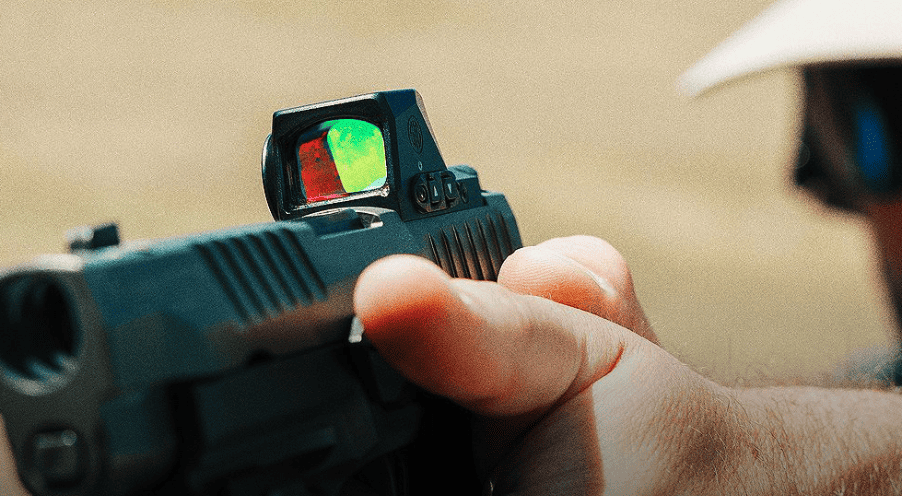 SIG SAUER Electro-Optics has released the ROMEO-X series of optics. The ROMEO-X series of red-dot sights is offered as a ROMEO-X Compact for micro-compact pistols to include the P365, and a ROMEO-X Pro for full-size pistols to include the P320.
Inspired by the recently released mil-spec ROMEO-M17, the ROMEO-X delivers military-grade performance, reliability, and durability.
ROMEO-X Series red-dot sights are available in a compact version (ROMEO-X Compact), to fit micro-compact pistols, and a Pro version (ROMEO-X Pro), to fit full-size pistols, featuring distortion-free aspheric glass with a patent-pending Beryllium Copper flexure-arm adjustment system, in 7075 aircraft-grade aluminum housing with machined anti-reflection grooves on shooter facing surfaces.
The ROMEO-X Series optics incorporate a high-efficiency point source red LED emitter with 2 MOA dot / 32 MOA circle reticle, side independent brightness adjustment buttons, 15 brightness settings including night vision settings, and a side-mounted CR1632 battery compartment with a threaded battery cap so the optic does not need to be removed from the pistol for battery changes.
Additionally, the ROMEO-X Series offers a low deck height for standard-height iron sight co-witness, has a minimum continuous runtime of 20,000 hours at medium brightness setting, and utilizes MOTAC™ (Motion Activated Illumination), MAGNETAC™ (Magnetic Activation), and D.A.R.C™ (Dark Adaptive Reticles & Coatings) technologies.
"The ROMEO-X family of red dot sights is completely optimized for everyday carry and built using the same technology and testing standards of our mil-spec optics that are designed to withstand the rigors of the battlefield," said Andy York, President, SIG SAUER Electro-Optics.
"The ROMEO-X Series is designed for ease of use beginning with the side battery placement leading to an overall low deck height of the sight. This profile gives the optic an extremely low position when mounted to the slide for a full-sight picture and co-witness with the existing standard-height iron sights. The ROMEO-X Compact and ROMEO-X Pro are engineered, tested, and built-in Oregon to be the ultimate aiming solution for EDC."
ROMEO-X Compact:
Clear Aperture Diameter: 24mm
Reticle: 2MOA Dot / 32 MOA Circle
Lens Type: Asphere
Illumination Settings: 15 ( 12 Day / 3NV)
Overall Length: 1.62 inches
Overall Width: .94 inches
Overall Height: 1.23 inch
Mounting Footprint: SHIELD RMSc
Weight (w/o battery): 1.0 ounce
ROMEO-X Pro:
Clear Aperture Diameter: 24mm
Reticle: 2MOA Dot / 32 MOA Circle
Lens Type: Asphere
Illumination Settings: 15 ( 12 Day / 3NV)
Overall Length: 1.84 inches
Overall Width: .94 inches
Overall Height: 1.23 inch
Mounting Footprint: DeltaPoint Pro
Weight (w/o battery): 1.15 ounces
Find suppliers & manufacturers of Military Optics & Sights >>