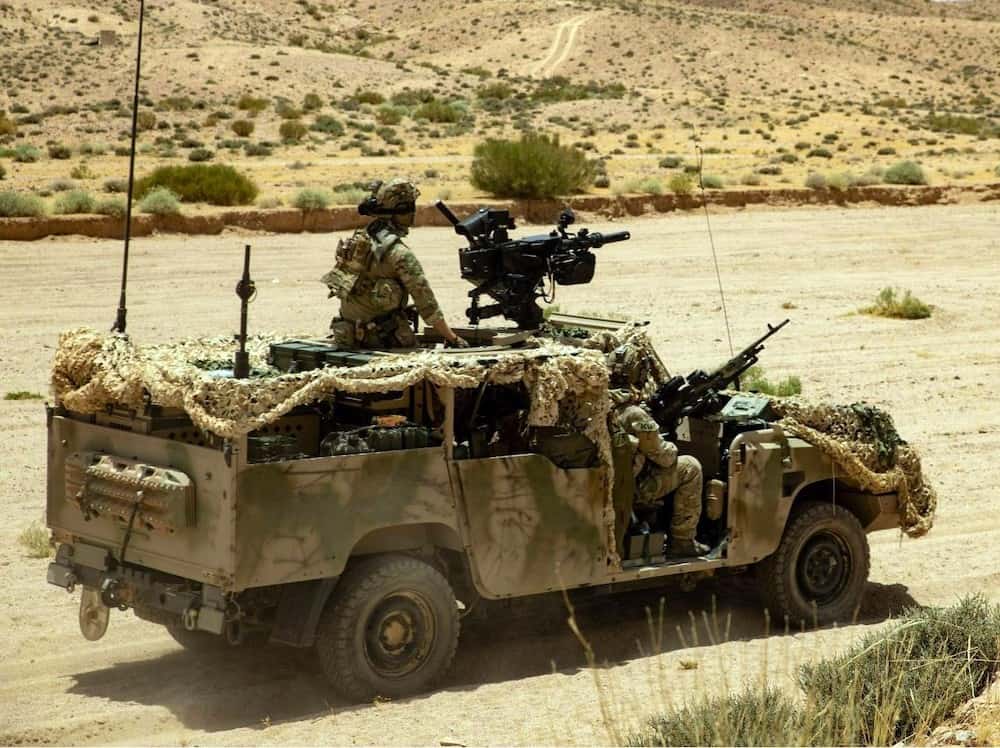 In July 2023, high-specification vehicles and protection systems manufacturer Jankel is celebrating the delivery of over 500 Jankel Fox tactical vehicles, globally. 
The Jankel Fox product line is a family of tactical vehicles based on modified off-the-shelf Toyota base vehicles; either the Hilux or the 79 series pickup (single and double cab), depending on each customer's requirements.
The 500 vehicles have been designed, developed and built by Jankel in the UK where the Intellectual Property (IP) resides, as well as being produced in collaboration with French partners Technamm, who has built the French variant of the Jankel Fox Long Range Patrol Vehicle (LRPV), named 'Jankel Fox by Masstech'. The vehicle was procured by the French MoD as part of the VPS2 urgent requirement in 2018. The vehicles are manufactured under license in France by Technamm at its Lambesc facility.
In 2015, Jankel was awarded an internationally competed contract to supply 108 Jankel Fox 4×4 Rapid Reaction Vehicles (RRVs) to the Belgium Ministry of Defence (BeMoD) for use by its Special Forces. The last of the BeMoD Jankel Fox RRVs rolled off the production line in 2020. Since then, Jankel has received a significant number of orders for Jankel Fox vehicles from undisclosed global customers in different variants, bringing the current total to over 500, supporting UK exports and jobs across a growing team of engineers and technicians.
The Jankel Fox vehicle is now in service and supported in the UK; USA; NZ; Romania; France; Belgium; Botswana; Oman; Jordan; South Korea; Brunei; Spain; Italy; Mauritania and Indonesia.
The Jankel Fox family comprises of three main role variants: Tactical Utility Vehicle (TUV); Rapid Reaction Vehicle (RRV) and Long Range Patrol Vehicle (LRPV) available in 4×4 and 6×6 variants. Jankel continues to spirally develop the platform in the UK with configurations and developments to integrate future mission systems across the Jankel Fox family.
Jankel has designed and integrated upgrades to the off-the-shelf automotive platform systems including: suspension; drive train; brakes; transmission and power generation. The military integration then includes weapons, communications, ECM, modular armor, seating, tools and stowage. The vehicle is compliant with multiple international defense standards that include reliability, integration, service support, operating environments, towing, tie-downs, aircraft and helicopter transportation. The Jankel Fox has a crew of 2-6 and is used in a variety of roles including: command, reconnaissance, tactical patrol, fire-support, logistics, border patrol and anti-poaching. Jankel has also put in place a comprehensive global support solution that is delivering all aspects of in-service support to the range of customers now operating their Jankel Fox vehicles.
Andrew Jankel, Chairman at Jankel, said: "This is an important milestone for Jankel as we see over 500 of our Jankel Fox tactical vehicles having been delivered to over fifteen end user groups. That's a significant achievement creating UK-held Intellectual Property and enabling Jankel to further grow the team, creating and sustaining skilled engineering jobs. The programs have demonstrated our flexibility in producing and exporting vehicles globally including through licensed manufacture in-country, to satisfy local build requirements – a model that can be replicated anywhere."
He added: "I think there are three main points to make about the Jankel Fox. 1) It's an extremely capable and flexible platform that is now battle-proven on multiple operations. 2) Our approach of using modified off-the-shelf base vehicles delivers the required capability but at an affordable price. 3) Because the Jankel Fox is based on the world-renowned and supremely reliable Toyota chassis, remote users can tap into a global support network literally, anywhere. At the same time, we've developed a comprehensive support solution to complement that."