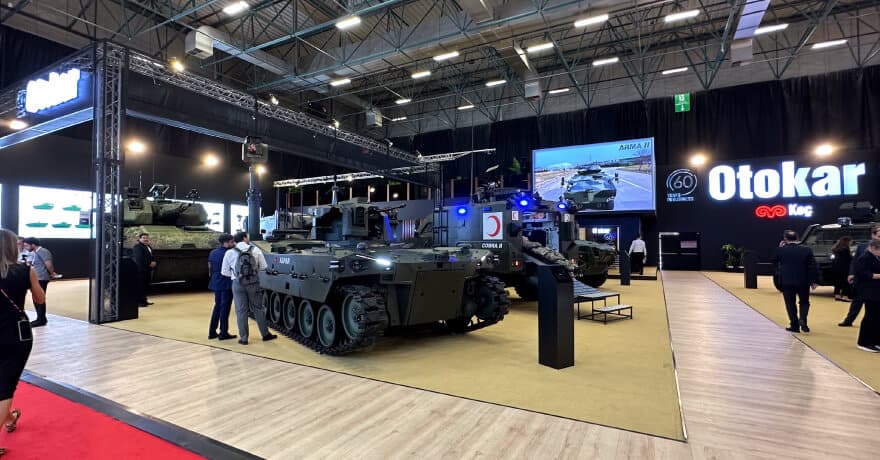 Otokar is exhibiting its military vehicles and turret systems at IDEF 2023, July 25th-28th.
During the four-day fair at Tüyap Fair and Congress Center, Otokar will showcase 11 military vehicles, its turret systems and ARMA 8×8 Driver Gunner Training Simulator.
Meanwhile, Otokar's ARMA 8×8 Low Altitude Air Defense Vehicle and ARMA 6×6 HPEM Vehicle are displayed at the Aselsan booth.
Visitors to the Otokar booth will have the opportunity to see the company's new land systems solutions for the first time, as well as its wide product range.
At the defense industry event, Otokar will unveil ALPAR, the first heavy-class tracked and armored unmanned ground vehicle of Turkey, and ARMA II 8×8 armored vehicle. The Mobile Repair and Recovery Vehicle variant of ARMA II 8×8 and the AKREP II R Reconnaissance and Surveillance Vehicle will also make their debut.
Otokar General Manager Serdar Görgüç said: "Nearly 33,000 military vehicles of Otokar currently serve in more than 40 friendly and allied countries on five continents, including the Turkish army and security forces. We strive to offer the best products and services to our users with our global know-how, engineering capabilities, R&D strength, and technological capabilities. We aim to meet the requirements of our users with effective land systems solutions against present and future threats."
Görgüç added: "We take great pride in bringing the experience Otokar has gained in different climates and regions in Türkiye and around the world to vehicle development. We participate in various defense exhibitions worldwide to introduce our products, services, and capabilities to our potential users. This year at IDEF, we continue to lead in innovation of the country by unveiling the heavy-class tracked and armored unmanned ground vehicle ALPAR and ARMA II 8×8 armored vehicle. The two new variants of the ARMA II 8×8 and AKREP II will also be the most innovative vehicles showcased at the fair. In addition to being a company with outstanding technology transfer and local manufacturing capabilities, Otokar is also the pioneer in the Turkish land systems industry with a wide product range, engineering capabilities, production strength, and experience."