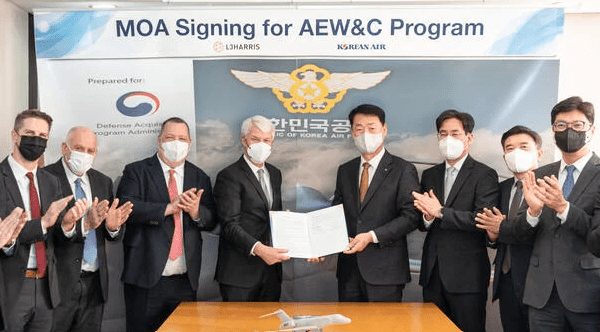 A teaming agreement has been signed to deliver the next generation of survivable, high-altitude airborne early warning and control aircraft to the Republic of Korea's Air Force.
The agreement sees a collaboration between L3Harris Technologies, Israel Aerospace Industries' ELTA Systems Group (IAI/ELTA) and Korean Air.
Led by prime contractor L3Harris, the team has delivered a variety of special mission aircraft to its customers over the last 20 years, including the Korea P-3C upgrade program and the delivery of a fleet of missionized Falcon 2000 aircraft for regional customers with specific surveillance requirements.
The solution for the Republic of Korea's Air Force is based on a proven L3Harris platform design using Bombardier's premier Global 6500 high-altitude business jet.
"For more than two decades, this team has been delivering missionized aircraft to strengthen the Republic of Korea's ability to defend its freedom," said Luke Savoie, ISR President, L3Harris. "We're pleased to partner with this industry team to deliver next-generation airborne capabilities to strengthen the ability to respond to future threats."
The airborne early warning and control solution includes the integration of IAI/ELTA's advanced radar technology and artificial intelligence algorithms. The first two aircraft will receive structural modifications in Texas before transferring to an ELTA facility in Israel for integration and radar testing.
Korean Air will lead modification and testing activities of the remaining aircraft in the Republic of Korea. The arrangement will grow a new airborne early warning and control aircraft mission integration capability in the Republic of Korea, providing it with higher aircraft readiness rates and lower operational costs.
Find Airborne Surveillance Radar manufacturers and suppliers of Airborne Early Warning (AEW) Radar including Airborne Maritime Surveillance Radar for military and defense >>