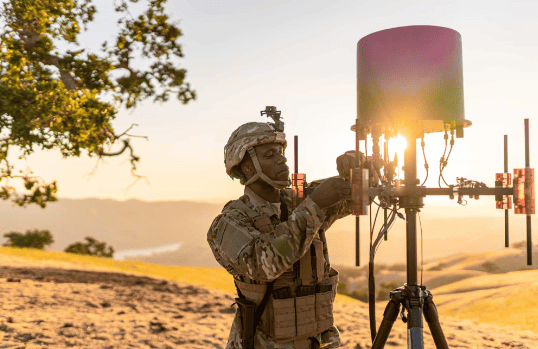 SPX CommTech has launched its next generation 953 Communications Intelligence (COMINT) Radio Frequency (RF) Receiver for superior identification, direction-finding, and tracking of hostile RF signals to support COMINT and C-UAS tactical operations.
It will be exhibited for the first time at DSEI, Excel London, on stand H2-874, between 12-15 September, 2023.
Building on the success of its predecessor, the new 953 COMINT RF Receiver now boasts reduced size and weight, but with greater power. This makes the device portable for dismounted operations and easily mounted on a vehicle to support mobility operations. For example, it can be carried to an elevated position in a dismounted role, such as a tactical position only accessible on foot or on top of a high-rise building, to ensure the antenna is situated at height for optimum signal detection and increased range.
The 953 COMINT RF Receiver performs continuous, unmanned, remote, and real-time signal collection up to 80MHz bandwidth across a frequency of up to 40GHz for signal monitoring, collection, and direction-finding. This bandwidth delivers a sweet spot between monitoring sufficient signal breadth and amplitude to ensure quality and accuracy in identifying threats.
The 953 COMINT RF Receiver is powered with removable hot-swappable batteries for round-the-clock use. The new compact chassis is IP-67 rated to withstand temperatures up to 50°C to deliver full operational capability in extreme hostile climatic environments. It also boasts increased removable storage of up to 2 TB for enhanced data capture.
The 953 COMINT RF Receiver is powered by SPX CommTech's well-renowned Blackbird software application, which detects, identifies, direction-finds and tracks signals of interest to support, find, fix and strike operations, and mitigate electronic warfare threats. It also tracks the RF emission of UAVs and their controllers or Data Links to support counter-responses. Blackbird can record the signal environment for look-back analysis without interrupting the current mission. It simplifies the collection task and can trigger automated actions and support unattended operations.
Utilizing part of the 953 COMINT RF Receiver, Blackbird also uses geolocation to enable defense teams to visualize the location of the frequencies for improved intelligence-gathering and threat management. Blackbird's intuitive point-and-click user experience suits all skill levels and is an evolution of the proven intuitive interface in previous models. This ensures minimal training requirements for existing customers while enabling new users to master the system quickly.
The new 953 COMINT RF Receiver is backwards compatible with previous COMINT versions and other technologies from SPX CommTech, for cost avoidance, uninterrupted service and seamless scalability for our users. It can also be integrated with open-source or customer-supplied mapping and other integrations.
"All around the world, heightened political, military and societal tension, and the growing use of electronic warfare, demonstrates the unparalleled importance of managing and understanding the RF spectrum today. Threat analysis and response are critical to global security, so we are excited to welcome the next generation product of our successful RF range, currently used across 20 countries," said Graeme Forsyth, Counter-UAS Product Manager at SPX CommTech.