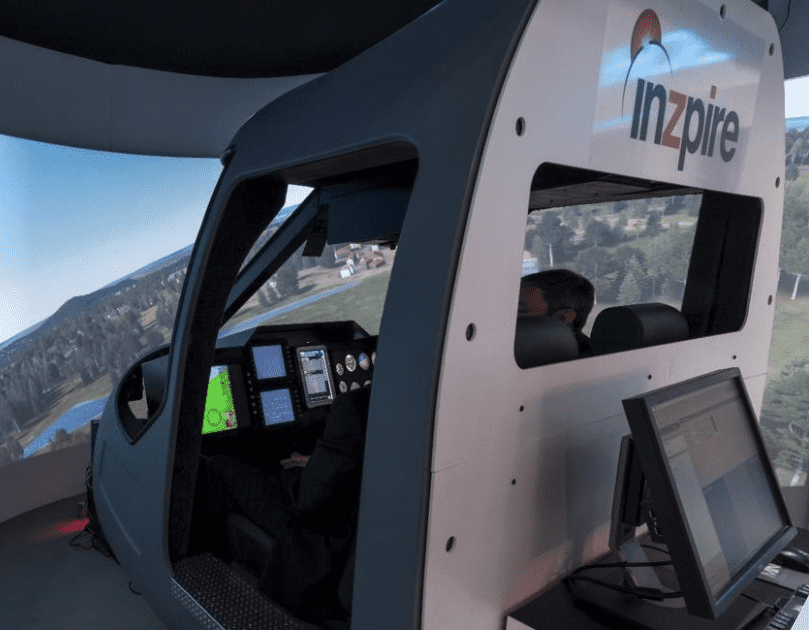 Inzpire Limited's Mission Training Devices Division has unveiled three brand-new simulator system demonstrators at DSEI London 2021. The three systems include:
The Compact Agile Simulator Equipment (CASE) ISR/UAS – deployable Unmanned Aerial System (UAS) simulator
CASE UAS/ISR is designed to deliver cost-effective ISR and UAS training to the trainee at the point of need. The entire system, contained within ruggedised pelicases, is easily moveable by one person for ease of transport and can be set up ready for training within minutes.
The system can be configured to deliver individual training to UAS pilots or sensor operators, or configured to support team/crew training of pilots and sensor operators, as well as mission intelligence coordinators and image analysts. CASE can replicate a vast array of sensor and weapons payloads including EO/IR, radar (SAR, MTI, GMTI, DBS, ISAR), laser (LTD, LRF, Lidar) and SIGINT.
The Mixed Reality (MR) – deployable Joint Terminal Attack Controller (JTAC) simulator (CASE JTAC)
CASE JTAC is a MR simulator training capability which consists of a series of ruggedised deployable cases; all elements of the system can be used as standalone individual simulators or networked together to provide a full team training capability.
The design of the system allows for the use of real-world equipment alongside MR headsets, allowing for greater immersion without the isolation effects associated with pure VR simulation systems.
Whilst utilising CASE JTAC, trainees can still interact with each other, enhancing team training without the infrastructure and costs associated with expensive dome projection systems.
The Vortex HeliSim – deployable single seat helicopter simulator comprised of a virtual reality (VR) headset and screen
The Vortex HeliSim is a deployable single-seat helicopter simulator with SFS Pegasus passive helicopter flight controls that can be operated either in VR or with curved monitors to create an immersive training solution for individuals or teams. The simulator utilises commercial-off-the-shelf products to provide cost-effective training in an upgradable and scalable synthetic training solution.
The Vortex Helisim is designed for all areas of rotary training, with a particular focus on enhancing tactical and judgement skills. The simulator can be used by individuals to improve everything from basic procedural understanding to coping with challenging tactical scenarios, and is designed to be scalable; two or more Vortex HeliSims can be networked together, to enable immersive, multi-crew helicopter training.
The Vortex HeliSim also provides improved immersion for helicopter role players as virtual entities in a networked collective synthetic training environment.
Steven Pook, Inzpire's head of mission training devices, said: "Our new simulators provide deployable synthetic training capability, lessening costs to the customer thanks to the reduced infrastructure, transport and subsistence costs associated with larger centrally-hosted systems."
"Inzpire's new Mission Training Devices are capable of deploying with units on operations or on training deployments, ensuring that currency, competency and the opportunity for mission rehearsal in a synthetic environment is maintained away from home base. Ultimately Inzpire's new Mission Training Devices are designed to maintain and enhance the operational effectiveness of our customers' personnel wherever they may be."
Inzpire will be exhibiting at DSEI on stand H7-600