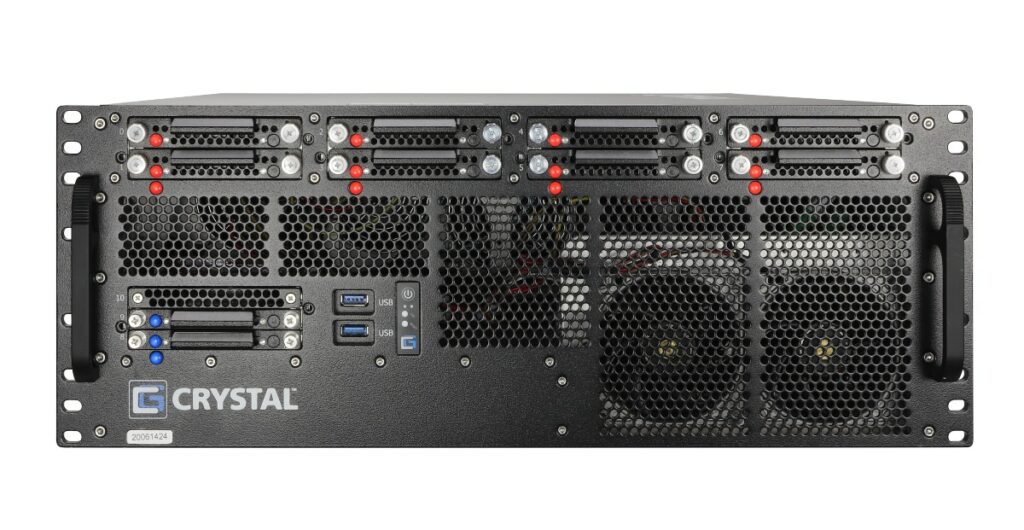 Crystal Group, a U.S. designer and manufacturer of rugged computing and networking solutions, has announced the launch of three new rugged servers — the RS4105L22 4U GPU server, RS1.532L21X2F twin server, and Crystal Group FORCE™ RS2606 — all designed for ultra-high ISR performance.
Independently, each server delivers powerful performance that enables Crystal Group customers with high-velocity capability, security and efficiency. When combined, these three servers form a flexible, integrated system for real-time high-speed sensor data collection, computation, and daily, hot-swappable data extraction critical to decision-making on the move.
"To maintain a competitive advantage and handle today's immense data requirements, our customers need powerful servers that can collect, analyze and prioritize immense amounts of data, often in remote, unpredictable situations," said Beth Otting, director of Military Programs for Crystal Group. "Currently deployed on allied military aircraft, these new rugged servers provide the essential capabilities needed for real-time reliability and accuracy in the field."
Optimized to extract and integrate data from multiple sensors via four NVIDIA® V100 GPUs, the RS4105L22 4U GPU server is a powerhouse of high-capacity storage for electronic warfare, sensor fusion, signal intelligence, C4ISR, radar and digital signal processing.
Equipped with up to 88 cores, the RS1.532L21X2F 1.5U rugged twin server delivers high-speed processing in a small form factor by consolidating capabilities of two separate computers into a single unit with front I/O. Each of the dual X11 motherboards can be customized with up to three PCIe slots for increased bandwidth. Its extreme compute density enables artificial intelligence, machine learning and real-time decision making in a compact footprint.
Designed and qualified for airborne jets, the Crystal Group FORCE™ RS2606 rugged server combines both high compute and maximum storage cap acity in a single chassis with eight SAS SSDs in the removable media canister. Customizable with up to six modules, this unit boasts a removable media canister, redundant AC power supplies, and advanced thermal management to accelerate compute-intensive workloads at the edge.