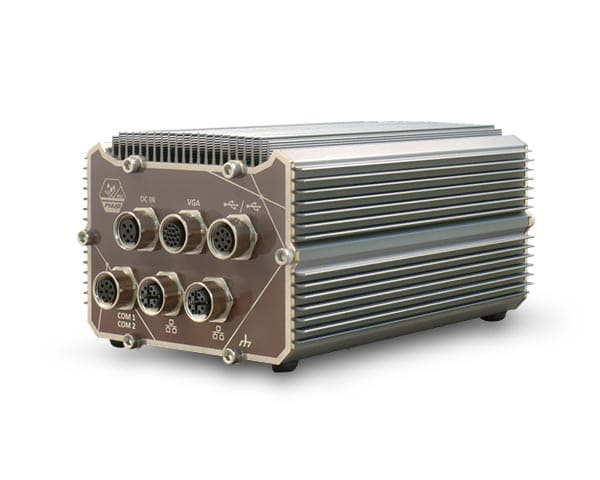 Neousys Technology has extended its family of waterproof industrial computers with the introduction of the POC-465AWP fanless embedded system. Based on the Intel Elkhart Lake Atom X6425E and enclosed in a stainless steel and aluminum chassis, the IP66-rated system features efficient thermal design and robust M12 connectors, and is ideal for mission-critical systems operating in harsh environments.
The hermetic enclosure of the POC-465AWP can prevent internal PCBA corrosion in high salinity or humidity conditions. It is ideal for deploying into grimy or dusty air-polluted environments such as farms, seaports, factories, mining sites, or on vehicles for gateway and data collection applications. The optimal thermal solution makes it possible to operate from -25°C to 70°C with minimum thermal throttling, and customers can deploy and implement with ease instead of needing to place fanless systems into waterproof or weatherproof boxes.
The POC-465AWP features M12 connectors to ensure connection in demanding high-shock and vibration environments. It provides two 2.5G Ethernet ports, one isolated RS-232, and one isolated RS-422/485. The isolated design protects the motherboard from voltage spikes that may damage internal components. The system also provides one VGA port, two USB2.0 ports, an M.2 M key slot to support SATA SSD, and a mini-PCIe for WiFi/ LTE, CAN bus, etc., for wireless communication.
Neil Liu, Product Manager at Neousys Technology, commented: "The POC-465AWP is the first of many IP66 waterproof fanless computers to come from Neousys. With the need and rising popularity of edge computing, we believe Neousys IP66 series can help customers further advance edge computing, communication or act as a redundant unit for mission-critical applications in demanding environments with minimum effort and cost."