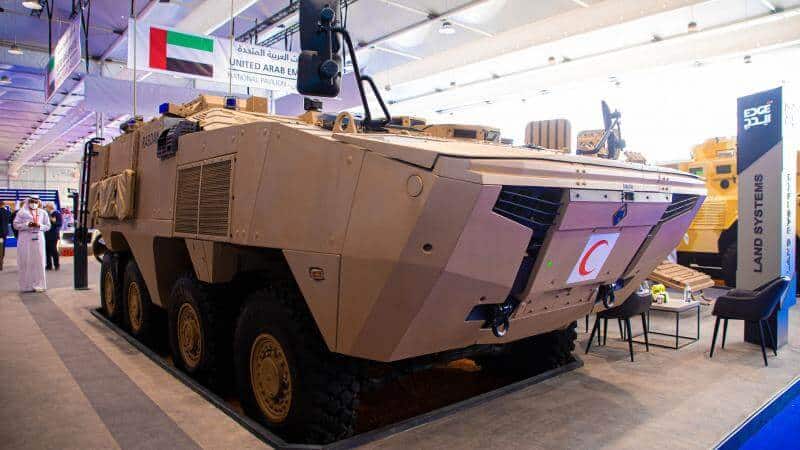 EDGE entity AL JASOOR unveiled a new variant of its Rabdan 8×8 Infantry Fighting Vehicle (IFV) – the Rabdan ambulance – on the first day of the World Defense Show 2022 in Riyadh, Kingdom of Saudi Arabia. 
The new configuration is uniquely designed to provide off-road mobility and mine-resistant, ambush protected-level protection to military medics on ambulatory missions in high-threat environments.
The Rabdan 8×8 ambulance provides urgent evacuation capabilities while shielding patients and medics with optimal protection against enemy fire, Improvised Explosive Devices (IEDs), and other battlefield threats.
An impressive powerpack and military-grade driveline mean that the vehicle can keep up with forward formations, even in the harshest terrain.
Alongside a design that protects crew and patients from threats, the Rabdan ambulance features an elevated roof and a large internal volume configured with extensive medical equipment. With room for medics to maneuver, the vehicle has a carrying capacity of up to nine personnel, including medics and patients.
"The Rabdan ambulance vehicle combines best-in-class off-road mobility with a life-saving crew protection system for urgent medical care in landscapes that are too rugged for regular ambulances. Like the Rabdan 8×8, its innovative design protects passengers on operations in high-risk environments," said Dr. Jasem Al Zaabi, Acting CEO, AL JASOOR. "Featuring high commonality with the Rabdan 8×8 platform, the ambulance variant drives down cost for our clients, meets modern warfare requirements, and optimizes value for all operational requirements."