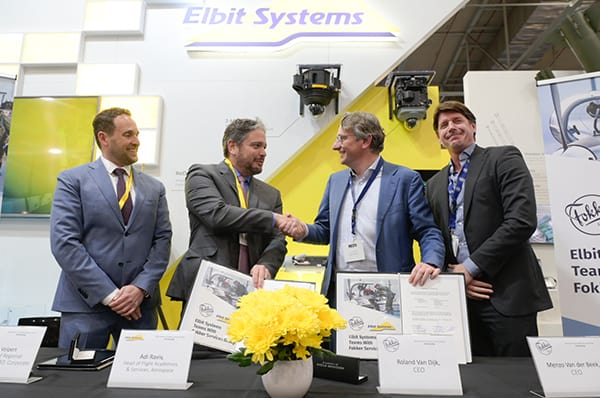 During the NIDV's Exhibition Defence & Security (NEDS) 2022, Elbit Systems and Fokker Services Group signed an agreement to provide advanced, proven military flight training capabilities.
Under the cooperation scheme, Fokker Services Group will add its MRO expertise and capacity to Elbit Systems' portfolio of advanced flight training solutions that can be optimized to meet domestic requirements.
"Our portfolio for special mission aircraft services and solutions is constantly expanding," said Roland van Dijk, Co-CEO of Fokker Services Group. "By combining our maintenance expertise with Elbit Systems' advanced military flight training capabilities, we offer defense customers a complete solution. This is the first step in this new collaboration, and in the future we will explore ways to further grow and combine the unique skills and capabilities of both companies."
"We are proud to team with the renowned Fokker Services Group," Adi Raviv, VP Flight Academies & Services of Elbit Systems Aerospace, added. "This latest cooperation is part of Elbit Systems' wider strategy for the Dutch market with the company seeking to strengthen its partnerships with domestic industrial leaders. The overall goal is to improve Elbit Systems' ability to respond to the Dutch customer's needs in a customized way with regard to ongoing and future procurement programs."
Operating almost 200 aircraft around the globe, Elbit Systems has a proven track record when it comes to selecting, procuring, operating and sustaining fleets of elementary, basic and other training aircraft combined with fifth-generation in-flight and ground based training systems. Using flexible, cost-effective business models, Elbit Systems believes its modern flight training approach allows its customers to focus on conducting actual training.
As an independent integrator, Fokker Services Group modifies and services transport, surveillance, other special mission aircraft and helicopters in addition to providing engineering services for various customers.