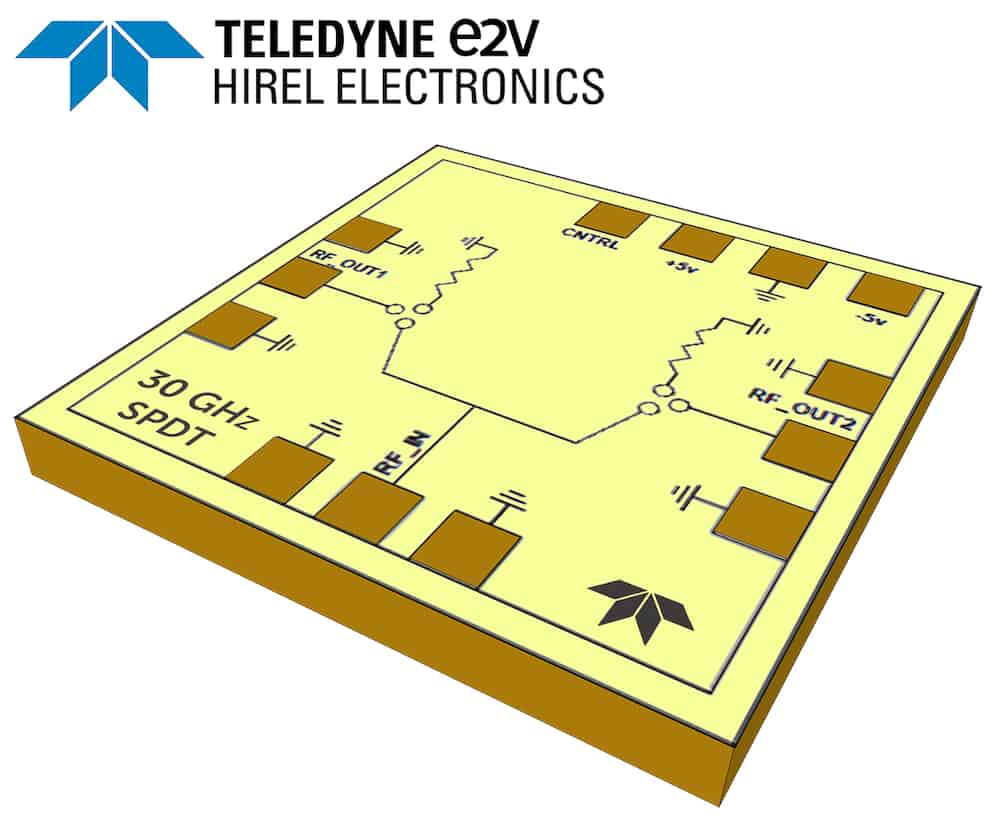 Teledyne e2v HiRel has announced the availability of a rad-tolerant 30 GHz, Single Pole Double Throw (SPDT) reflective RF switch, model TDSW030A2T, designed for use in demanding high reliability, space and defense applications.
Now available with qualified material off-the-shelf, this new RF switch, developed on 0.15 μm InGaAs pHEMT technology, will be available as die and is qualified per MIL-PRF-38534 Class K equivalency for space applications.
The TDSW030A2T leverages Monolithic Microwave Integrated Circuit (MMIC) design techniques that deliver superior performance in the Ku and Ka microwave and millimeter-wave bands. The switch delivers low insertion loss, high isolation, fast switching times, and high linearity across a wide frequency band from dc to 30 GHz and attains an input power 1 dB compression of 25 dBm (typical). Class K equivalent element evaluation is performed per wafer.
"While switching is one of the core microwave building blocks, there has been a lack of choice for designers working on high-reliability applications," said Mont Taylor, Vice President and Business Development Manager at Teledyne e2v HiRel. "Joining our successful release of a 20 GHz switch last fall, this new product is the first 30 GHz switch qualified as TID radiation tolerant to 100 krad (Si) on the market."