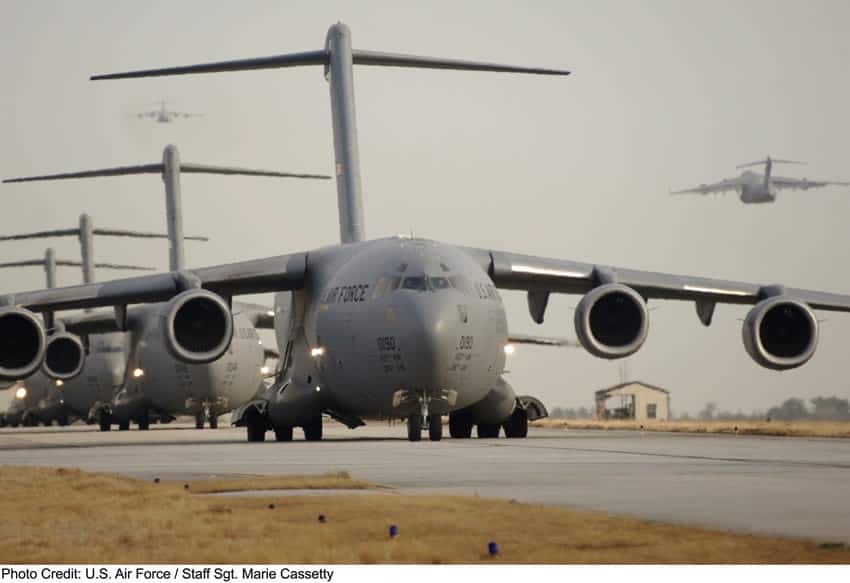 Pratt & Whitney, an RTX business, has signed a modification to a previously awarded F117 Engine Sustainment Support contract with the US Air Force (USAF).
The contract provides engine services for C-17s operated by the USAF and eight international partners. The sustainment work will be provided between now and the second half of 2027 and will be conducted at Tinker Air Force Base in Oklahoma as well as facilities in San Francisco and Columbus, Georgia.
The $5.5 billion modification further supports USAF readiness, affordability and sustainability objectives and includes an engine performance improvement package that is expected to eliminate more than 20 shop visits per year thanks to extended time on wing and save the customer approximately $29 million per year in fuel costs. According to Pratt & Whitney, the package will improve the F117 engine's fuel efficiency, saving up to 6.5 million gallons of fuel annually and reducing CO2 emissions by up to 140 million pounds per year.
"The global fleet of F117 engines is a benchmark for dependable, safe and reliable propulsion," said Jill Albertelli, president of Military Engines at Pratt & Whitney. "As a trusted Air Force partner, we intend to maintain the strength of this relationship and bring new benefits to the Air Force and the eight F117 international operators."
This latest upgrade involves technologies that have been demonstrated, incorporated and are operational in other engine models. The upgraded hardware will be incorporated during routine planned engine maintenance upon the completion of all engineering changes, Service Bulletin publication and all parts being industrialized.
Pratt & Whitney has partnered with the Air Force for over 30 years in the development, production and sustainment of the F117 engine, the exclusive powerplant for the Globemaster III transport aircraft. Pratt & Whitney's F117 engines have accumulated more than 17 million flight hours in support of military and humanitarian missions around the globe, be it airlift missions or overnight combat airdrops in unsecured locations. Certified at 40,440 pounds of thrust, the F117 engine has undergone continuous product improvements enabling it to surpass established goals for time on-wing, in-flight shutdowns and reduced turnaround time.
"One specific product improvement we are looking to incorporate under this contract is a compressor blade coating technology, which according to the Air Force Research Laboratory's estimates, can extend time on wing by up to 16% and reduce fuel burn by over 1%," explained Chris Johnson, vice president of Fighter and Mobility Programs at Pratt & Whitney. "If we can improve durability for the Air Force while lessening impact on the environment, then that is a win-win."