Nir-Or and Axon-Vision will be presenting the EdgeRCWS, an Artificial Intelligence (AI) system for Next-Generation Remotely Controlled Weapon Stations (NG RCWS), at the Eurosatory exhibition 13-17 June 2022 in Paris.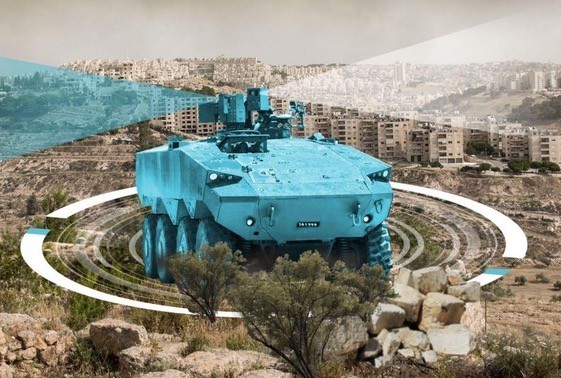 Nir-Or, a subsidiary of IMCO Industries Ltd., designs, develops, manufactures, and integrates innovative electronic systems and products for a vast range of military applications that maximize force lethality and survivability at land, air, and sea. Axon-Vision is a leading AI developer for the defense sector, focusing on enabling survivability, situational awareness, lethality and autonomy for land, air, and sea platforms, leading the future of autonomous missions for the future armies.
The EdgeRCWS system is uniquely designed to fit the next-generation combat vehicle's needs. The jointly developed system integrates real-time AI analytics and offers the commander maximum efficiency, lethality, and precision. Small and lightweight, the EdgeRCWS is an add-on solution that can be easily integrated into different turrets and weapon stations, and can include smart fire sequences to extend and automate fire support missions.
The EdgeRCWS will be presented in combination with Nir-Or's smart video system, which incorporates AI capabilities, Automatic Target Recognition (ATR), auto-tracking of multiple targets and smart scanning, and enhances the force's situational awareness.
Nir-Or is supplying its advanced video system for the Israeli Defense Forces (IDF)'s Namer and Eitan (8X8) Armored Fighting Vehicles (AFVs), and the company is now implementing AI capabilities into these systems, together with Axon-Vision.
"We are honored to participate at the Eurosatory exhibition and present the EdgeRCWS, an advanced AI system for Next-Generation Remotely Controlled Weapon Stations, that we have developed together with Axon-Vision," said Nir-Or CEO, BG. (Ret.) Roy Riftin. "Ideal for the future battlefield, Nir-Or's solutions maximize the force's effectiveness, lethality, and survivability while enhancing its situational awareness and decision-making processes."
Nir-Or will be presenting its solutions at Eurosatory on Valhalla stand, HALL 6 Booth K197, and on Escribano stand, Hall 6 Booth J-427.