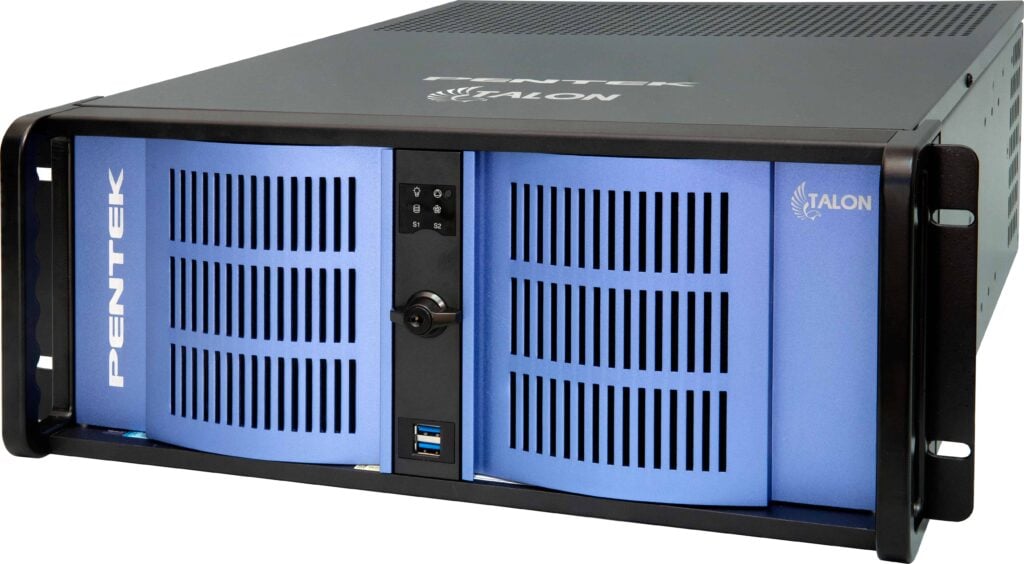 Pentek, Inc. has introduced a new addition to the Talon series of recorders; the Talon Model RTR 2628 8-channel, phase coherent, 4U 19-inch rackmount recorder with integrated RF tuners and A/D converters.
The rugged rackmount system is designed to operate under conditions of vibration and extended operating temperatures. The Talon RTR 2628 accepts signals from eight antennas to provide eight channels of phase-coherent RF signal recording. Each channel is tunable up to 6 GHz and captures up to 80 MHz of instantaneous bandwidth.
"With excellent dynamic range to pick up low-level signals, the Talon RTR 2628 is an ideal choice for spectrum monitoring applications that need to accurately interpret synchronized signals. Targeted applications including beamforming, direction finding, phased-array radars and multi-antenna diversity receivers can all leverage the phase-coherent capabilities of the Talon RTR 2628," noted Rodger Hosking, co-founder and vice-president, Pentek.
Each input channel includes a 250 MHz 16-bit A/D and an FPGA-based digital downconverter with programmable decimations from 2 to 65536 for instantaneous bandwidths from 80 MHz down to 3 kHz.
RF signals up to 6 GHz in frequency can be tuned, sampled, digitally-downconverted and streamed to disk in real-time at sustained aggregate recording rates up to 3.2 GB/sec. RF tuning frequencies, A/D sampling rates, DDC decimations and trigger settings are among the selectable system parameters, providing a system that is flexible, yet simple to configure and operate.
The RTR 2628 is configured in a 4U 19-inch rack-mountable chassis, with hot-swap data drives, front panel USB ports, and I/O connectors on the rear panel. It is optimized for cooling and ruggedized to operate in challenging environments. Systems are scalable to accommodate multiple chassis' to increase phase-coherent channel counts and aggregate data rates. All recorder chassis are connected via Ethernet and can be controlled from a single GUI either locally or from a remote PC.
The RTR 2628 includes as many as 32 hot-swappable SSDs to provide flexible storage capacities up to 122 TB. The 2.5-inch SSDs can be easily removed or exchanged during a mission to retrieve recorded data. Multiple RAID levels, including 0, 5 and 6, provide a choice for the required level of redundancy.