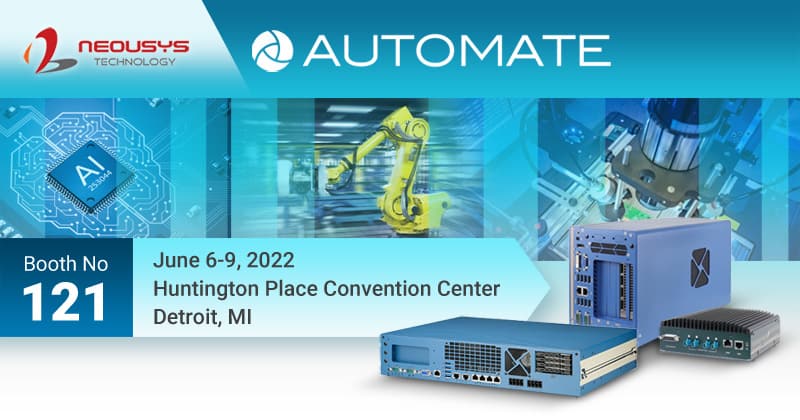 With main themes covering rugged embedded, AI inference, edge computing, and extreme deployment, Neousys Technology will showcase its Nuvo-9000 Series powered by Intel 12th-Gen Core, a rugged HPC server powered by AMD EPYC, and the SEMIL IP67 fanless computers at the Automate 2022 event, June 6-9 in Detroit.
The Neousys Nuvo-9000 rugged embedded computer utilizes the Intel 12th-Gen Core series that comes with performance and efficient cores. The system can provide up to twice the overall system performance when compared to 9th-Gen platforms. Unlike the standard independent loading mechanism on most systems, Nuvo-9000 features Neousys' unique CPU holder. It evenly distributes the load for optimum heatsink contact and offers efficient heat dissipation for maximum performance.
Neousys will demonstrate its GPU-aided computers that integrate outstanding features with simple, robust architectures. Featuring a rugged GPU computer portfolio with unique thermodynamic designs, the GPUs include NVIDIA RTX professional series, mainstream RTX series, Jetson SoM, and Google TPU to enable edge AI, deep learning and AI inference applications for different customers, industries, and operating environments.
The company has dedicated vast resources to other areas of research, to push edge AI beyond its boundaries. At the show, visitors can witness a revolutionary rugged HPC server powered by the AMD EPYC 7003 series CPU, and IP67 waterproof fanless GPU computers for extreme deployments. The systems aim to offer high TFLOPS performance to satisfy AI-assisted edge computing for more advanced applications in extreme deployment.