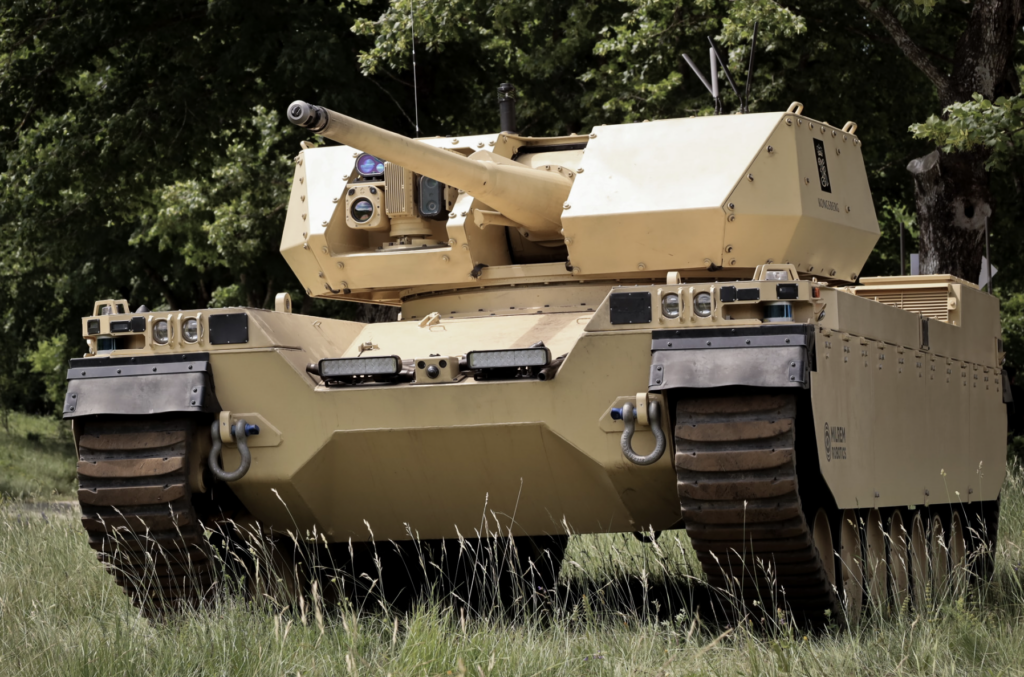 Milrem Robotics is to present the Type-X Robotic Combat Vehicle (RCV), equipped with a mixed reality situational awareness system (MRSAS) at DSEI 2023, London.
The Type-X RCV, along with other Milrem Robotics products, will be located at stand no H4-122.
The Vegvisir Remote MRSAS enhances the decision making of Type-X operators by giving them a 360-degree virtual dome with EO/IR sensor fusion for both close and medium proximity vision and target engagement capabilities in any condition. The system is optimized for lower bandwidth for remote use and connects the operator into a digital hub to interact and consume digital data.
In addition to the new cutting-edge situational awareness system, the Type-X is equipped with KONGSBERG's latest and best PROTECTOR Medium Caliber Turret that is changeable to specifically meet the particular needs of various end-users. The combination, which has passed several live firing tests, gives mechanized units the means to breach enemy defensive positions with minimal risk to their own troops.
The Type-X is also integrated with the QUADBOX by Elistair, that consists of a tactical tethered UAS for ISR, and communications relay designed to further enhance situational awareness for extended periods whilst on the move.
The Type-X RCV is an organic part of mechanized units that can take the most dangerous positions and provide equal or overmatching firepower and tactical usage compared to traditional Infantry Fighting Vehicles.
It was developed to navigate the battlefield autonomously, with a human-in-the-loop control system and artificial intelligence (AI) as an integral part of the operating algorithm. With the Type-X, Milrem Robotics also introduces a feature called Indirect Drive that allows remote controlled operations on higher speeds.
"Milrem Robotics continues the development of the Type-X RCV by integrating cutting edge technologies to address the requirements of many countries interested in intelligent robotic systems, especially the Nordics and Western Europe, but also the US," said Kuldar Väärsi, Milrem Robotics CEO.
Manufacturers and suppliers of military armored vehicles > >