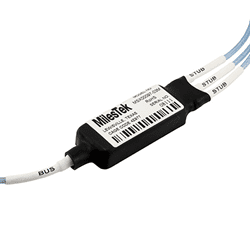 MilesTek has released a new series of RoHS-compliant MIL-STD-1553B in-line bus couplers that feature a space-saving, small form factor design for use in confined lab, avionics and military applications.
"These new smaller sized inline bus couplers are perfect for use in applications where space can be an issue, including in aircraft, land and sea-based vehicles and vessels, and other applications that require MIL-STD-1553 connectivity," said Mark Blackwood, Product Manager.
These data bus couplers feature one through four stub options, blunt (no connectors) 0.3 meter leads, M17/176-00002 78 Ohm Twinax cable, and various combinations and quantities of left and right stub leads. The bus couplers feature a transformer ratio of 1:1.41 with stub resistor values of 78.7 Ohm, 2W, 1 percent.