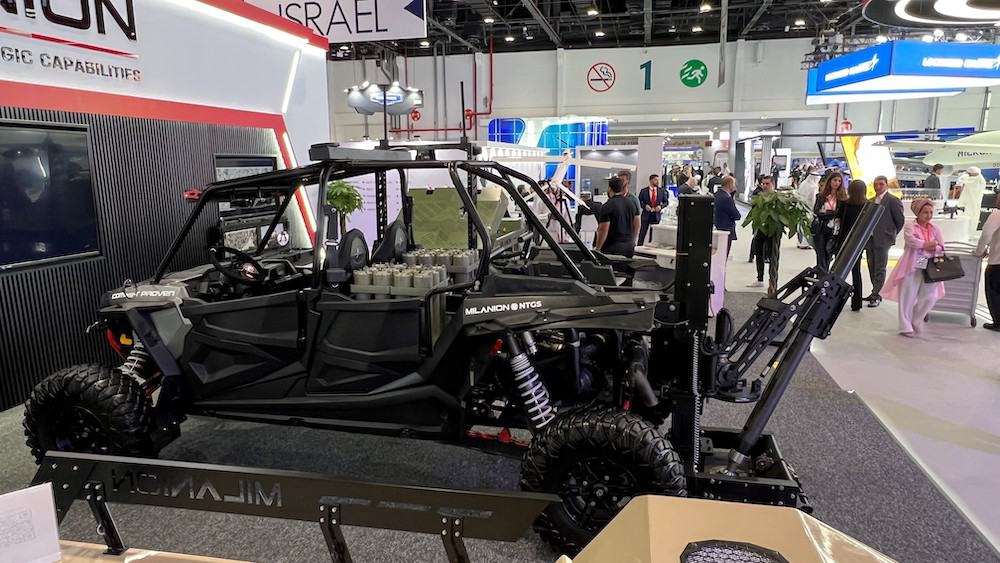 At IDEX 2023, Milanion NTGS debuted the newest member of the Alakran mobile mortar system family, the Alakran 'S', integrated with the Polaris RZR all-terrain vehicle. 
According to Milanion, its Alakran 'S' (S for small) is the world's lightest and most versatile mobile mortar system, delivering ultimate performance for 81mm rapid-fire-support to ground combat units in the most hostile and dynamic environments.
Ideal for Shoot and Scoot operations, the Alkaran 'S' саn shoot eight rounds and leave the location in less than two minutes. Additionally, electro-mechanical engines provide automatic, fast and accurate aiming. The Alakran 'S' is equipped with its own Fire Control System (FCS), using GIS Technology and new functions such as Zonal Shooting and Multiple Rounds.
"Alakran is renowned for its robustness and reliability on the battlefield," said Milanion NTGS CEO Julio Estrella. "Unlike other current mortar systems, Alakran's patented barrel cooling system allows for sustained rapid fire with no time-limit, solving the critical overheating problem on the battlefield. With a patented double baseplate, Alakran transmits all recoil force into the ground, providing unparalleled accuracy, precision and operator safety when firing."
The system is time-tested, combat-proven, on active service in several conflict zones and decades ahead of other similar products that have tried to emulate its effectiveness.
Developed and refined over time, Milanion believes Alakran sets the gold standard for mobile mortar systems, providing confidence to military commanders entrusted with the lives of soldiers.