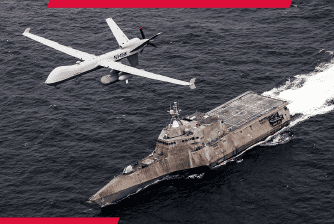 Curtiss-Wright Defense Solutions has announced Link 22 support for its proven suite of Tactical Data Link (TDL) solutions to deliver greater interoperability and capability to the US military and coalition partners.
The new Link 22 capability is now available with Curtiss-Wright's TCG LinkPRO Tactical Data Link Processing Software, TCG Ground Tactical Data Link System, and TCG Battlefield Operations Support System TDL testing and platform integration solution.
Link 22 is a NATO secure digital radio system that provides beyond-line-of-sight communications in the HF and UHF bands. The addition of Link 22 support to the TCG product line eliminates the need for customers to maintain separate systems for TDL certification programs or to learn multiple user interfaces.
"We are very excited to bring Link 22 support across our tactical data link product family, which comprises the industry's gold standard platform for TDL verification, training and simulation," said Chris Wiltsey, Senior Vice President and General Manager, Curtiss-Wright Defense Solutions. "We are seeing greatly increased interest in Link 22 TDL capabilities from the US DoD and our allies. For our customers, the addition of Link 22 support means that the same superior user interface they've come to trust can now be used to implement Link 22 integration programs. What's more, for simulation applications, we are now offering our best-in-class simulation and training tools to the Link 22 community."
Curtiss-Wright products, widely used for verification, training, and simulation of TDL integrations, as well as in operational deployments, now provides support for Link 22, Link 16, VMF, and Link 11 tactical data links.