GPS protection and resilient navigation solutions provider infiniDome, will be exhibiting at AUVSI XPONENTIAL from May 9-11, 2023, at booth #3113 in the cybersecurity pavilion at the Colorado Convention Center, Denver, CO.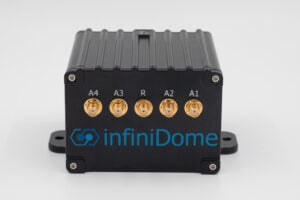 AUVSI XPONENTIAL is the largest unmanned systems event in the US. As finalists for the AUVSI XCELLENCE Awards for its GPSdome2 anti-jamming solution, infiniDome will be showcasing its advanced solutions for protecting GPS systems in manned and unmanned critical applications and ensuring accurate and continuous positioning and navigation data, even in heavily challenged GNSS environments.
Exhibition visitors stopping by infiniDome's booth can expect to learn more about GPSdome2, as well as other anti-jamming solutions designed to meet stringent Cost, Size, Weight and Power (C-SWaP) limitations, its GPS monitoring solution using sensors deployable on the ground, drones, and other assets to compile a map for jamming hot spots, and its joint solution with Honeywell, who will also be exhibiting at booth #2605.
In addition to exhibiting at the booth, Omer Sharar, Founder and CEO of infiniDome, will be available for one-on-one interviews during show hours or pre and post-show appointments.
To schedule time with Omer or for more information please contact Nadav Regev at [email protected]. Get your complimentary customer/client XPO Hall passes here.