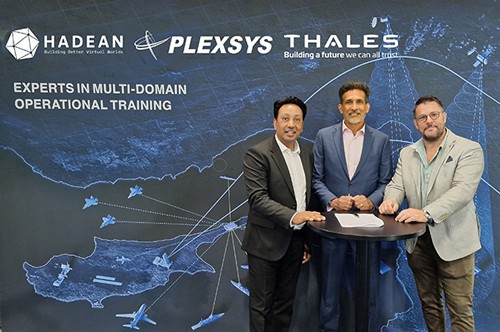 Hadean has signed a Memorandum of Understanding (MoU) with Thales Training and Simulation and Plexsys, as the next member of a growing technology team to help deliver next-generation operational training solutions to the UK Ministry of Defence (MoD).
Hadean's next-generation platform brings together data and computation at scale, providing a unified platform for synthetic environments and digital twins. 
The company joining the already established MoU that Thales and Plexsys signed in June 2022 will further enhance the partnership's capabilities in synthetic battle-space training, digital simulation systems, Artificial Intelligence (AI), modelling, integration expertise and more.
The team will combine its complementary skills, expertise and services across multiple domains to address the critical MoD challenge of retaining an operational edge over potential adversaries by being able to effectively integrate currently disparate military capabilities.
Designing and building for scale, high fidelity, and integrating live data with simulation, the companies will harness their collective expertise to provide a layered approach to multi-domain operational training.
"With Hadean now part of the MoU, this new three-way partnership will become an even stronger force when it comes to research and defining and developing cutting-edge technological solutions," said Daz Rawlins OBE, Managing Director, Thales Training and Simulation. "Not only will each organization be better able to exploit singular and collective opportunities as they arise, but more importantly the MoD and the RAF will benefit from the 'brain trust' of three organizations at the top of their game."
"Partnering with Thales and PLEXSYS, two well-established names in military technology and defense, is a big step forward for Hadean," said Craig Beddis, CEO and co-founder of Hadean. "Through our Hadean Platform, we'll be providing a strong backbone to allow them to push the boundaries of their expertise and build truly cutting-edge capabilities for cross-domain collaboration and data intelligence, using synthetic environments. Together, we'll provide military end-users with essential tools for maintaining battle-readiness and gaining the upper hand in an increasingly complex global strategic context."
"We're excited about this new alliance between Hadean, Thales and Plexsys," said Sanjay Khetia, Director, Plexsys Interface Products, UK. "Combining the expertise and technologies of each organization, we're well placed to provide scalable, high-fidelity training by matching Live, Virtual and Constructive (LVC) training readiness requirements with innovative products and world-class support to ensure all our defense and non-defense customers' ambitions are realized."